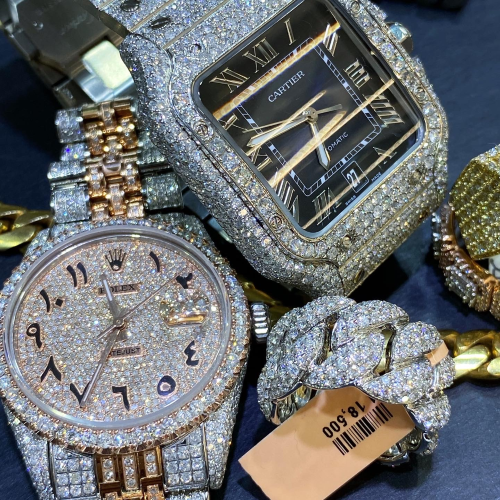 Unveiling the Essence of Luxury: Iced Out AP Watches at RDP Jewelry Miami Beach
When it comes to expressing success and a taste for the finer things in life, nothing speaks louder than an Iced Out AP Watch adorning your wrist. At RDP Jewelry Miami Beach, the epitome of luxury is defined through their exquisite collection of Audemars Piguet timepieces, each piece a testament to the brand's mastery in horology and the art of diamond setting.
The Pinnacle of Opulence: Rolex Bust Down
A watch is not just a time-telling device; it's an extension of one's personality. The Rolex Bust Down watches at RDP Jewelry are not just timepieces; they are wearable works of art. Fully iced out with natural VS1 VVS1 diamonds, they capture the essence of prestige that Rolex is known for, and each piece screams luxury from every facet.
Cartier's Frozen Symphony: Iced Out Cartier Watch
For those who appreciate the marriage of timeless elegance and modern sophistication, the Iced Out Cartier Watch collection at RDP Jewelry Miami Beach is an undeniable treasure trove. With the best iced out Cartier watches available, adorned with VS1 VVS1 natural diamonds, these timepieces redefine what it means to wear a piece of Cartier on your wrist.
The Quintessence of Diamonds: Bust Down AP
Audemars Piguet is a brand synonymous with unparalleled craftsmanship, and the Bust Down AP selection at RDP Jewelry is a celebration of this legacy. Each iced out Audemars Piguet watch is a statement of sophistication, boasting the best VS VVS natural diamonds and all original parts and movement.
Beyond Timekeeping: Bust Down Watches
At Renee De Paris Jewelry Miami Beach, the Bust Down Watches collection goes beyond the realm of mere timekeeping. It's an invitation to indulge in a lifestyle reserved for the few. Whether you're looking to purchase or sell, these Rolex bust down watches are a true reflection of luxury and class.
The Ultimate Status Symbol: Bust Down Cuban Link Chain
The Bust Down Cuban Link Chain is not just a piece of jewelry; it's a bold statement of achievement. Found at RDP Jewelry, these chains are meticulously crafted with VS VVS1 natural diamonds and available in 10k and 14k gold, embodying the spirit of Miami Beach.
Your Gateway to Luxury: RDP Jewelry
With a call to RDP Jewelry at 305-465-7554 or a visit to their boutique at 6608 Collins Avenue Miami Beach, you're stepping into a world where luxury is personalized, and every client is family.
A Classic Reimagined: 36mm Bust Down Rolex
For connoisseurs of timeless elegance, the 36mm Bust Down Rolex offers a classic design reimagined. Each piece is intricately iced out with diamonds on the band and bezel, providing a contemporary twist on a classic size.
In conclusion, RDP Jewelry Miami Beach doesn't just sell timepieces; they sell dreams crafted with the utmost precision and adorned with the purest diamonds. Their collections aren't mere accessories; they are the heirlooms of tomorrow, the kind that narrate stories of success, individuality, and the unapologetic pursuit of luxury. Visit RDP Jewelry and let your personal expression of success shine brilliantly.