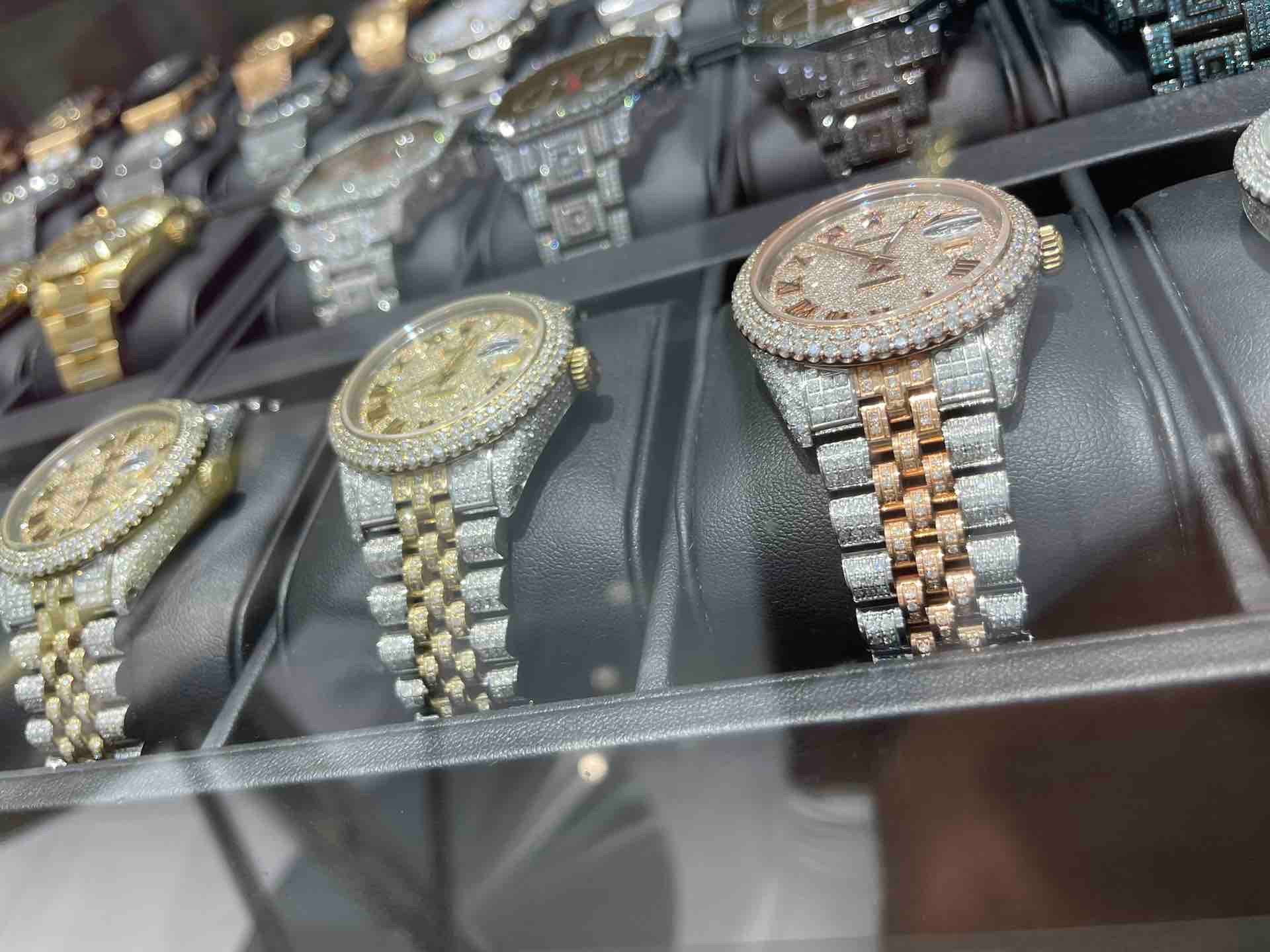 Discover the Exquisite 41mm Rose Gold Iced Out Bust Down AP Watches at RDP Jewelry Miami Beach
Welcome to the luxurious world of high-end timepieces at RDP Jewelry Miami Beach, where elegance meets unparalleled craftsmanship. Among our most sought-after collections is the stunning 41mm Rose Gold Iced Out Bust Down AP Watches, a true masterpiece of jewelry and watchmaking.
The Allure of Rolex Bust Down
At the heart of our collection lies the Rolex Bust Down, a symbol of sophistication and luxury. Each Rolex Bust Down is meticulously crafted, featuring a watch fully iced out with natural VS1 VVS1 diamonds. These timepieces aren't just watches; they are a statement of prestige and elegance, available exclusively at RDP Miami Beach Jewelry.
Iced Out Cartier Watch - A Synonym of Luxury
Our collection of the best iced out Cartier watches is designed for those who seek nothing but the best. Adorned with VS1 VVS1 natural diamonds, these Cartier watches exude a level of class that is second to none. Each piece reflects the pinnacle of luxury watch design, making it a must-have for collectors and fashion aficionados alike.
The Prestigious Bust Down AP
For enthusiasts of unique and bold designs, our Bust Down AP collection stands out. These Iced Out Audemars Piguet watches boast the best diamonds (VS VVS natural diamonds) and maintain all original parts and movements, ensuring authenticity and precision along with unmatched style.
Versatile Bust Down Watches Collection
Our Bust Down Watches at Renee De Paris Jewelry Miami Beach caters to diverse preferences. This range includes various Rolex bust down watches, and we also offer services to buy Rolex watches. Contact us for more information and explore a world of luxury timepieces.
Exquisite Bust Down Cuban Link Chain
Complement your watch with our magnificent bust down Cuban link chains. Crafted with all-natural diamonds (VS VVS1) and available in 10k and 14k gold, these chains are the epitome of Miami Beach craftsmanship and style.
Connect with RDP Jewelry
For personalized assistance or to view our collection in person, contact RDP Miami Beach Jewelry at 305-465-7554 or visit us at 6608 Collins Ave Miami Beach. Our team is ready to help you find the perfect piece that resonates with your personal style.
36mm Bust Down Rolex - Compact Elegance
If you prefer something slightly smaller, our 36mm Bust Down Rolex collection is ideal. These watches maintain the luxurious allure of the Rolex Bust Down, perfectly sized for those who favor a more compact design without compromising on luxury.
Explore the world of fine jewelry and watches at RDP Jewelry Miami Beach, where every piece tells a story of luxury, style, and exquisite craftsmanship.
This blog post incorporates the provided links using Markdown, with keyword-rich anchor text for internal linking, enhancing SEO and user navigation experience.