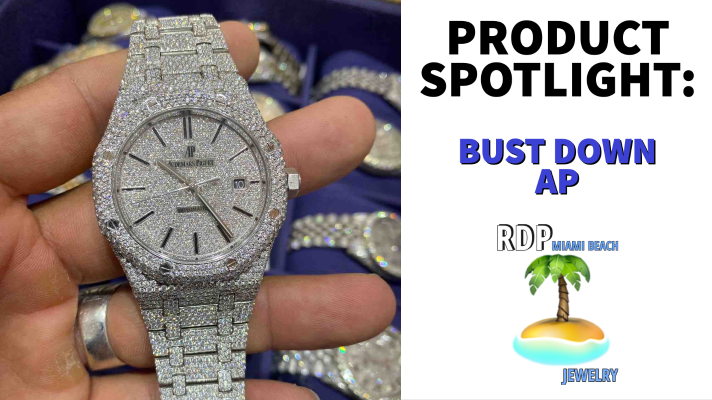 Bust Down AP: Product Spotlight
Are you looking for a high-end watch that will make a statement? Look no further than this Bust Down AP: 42mm VVS1 40 Cts T.W. Audemars Piguet (AP) Iced Bust Down Watch from RDP Miami Beach Jewelry. This stunning timepiece is a true work of art, with all-natural diamonds and an eye-catching design that is sure to turn heads. Learn more about Bust Down Watches here.
AP watches are a symbol of luxury and class, and a bust down AP watch takes things to the next level. By adding diamonds and other precious stones to the watch, it becomes a true masterpiece that showcases the owner's sense of style and sophistication. At RDP Miami Beach Jewelry, we take pride in our collection of bust down AP watches, each of which is carefully crafted to meet our high standards of quality and design. Learn more about Bust Down Watches here. Check out our Bust Down AP Collection Spotlight.
This particular bust down AP watch is a standout piece, with 40 carats total weight of all-natural VVS1 diamonds that have been carefully placed by our expert jewelers. The F color diamonds give off a stunning shine, making this watch a true showstopper. The Arabic numerals on the dial also add a touch of elegance and sophistication, while the Swiss movement ensures accuracy and reliability. Check out our full Bust Down AP Collection here.
At RDP Miami Beach Jewelry, we specialize in high-end jewelry and watches that are both beautiful and affordable. Our bust down AP watches are made with the highest quality materials and attention to detail, ensuring that each piece is a true masterpiece. We also offer a variety of financing options, making it easier than ever to own a stunning piece of jewelry or watch from our collection. Check out our Iced Out AP Arabic Dial and read more about it here.
If you already own a bust down AP watch or other high-end timepiece, RDP Miami Beach Jewelry also offers a buy-back program. We understand that sometimes you may want to part with your watch, and we are happy to provide a fair price for your piece. Simply visit our website or give us a call to learn more about our buy-back program.
In conclusion, the Bust Down AP 42mm VVS1 40 Cts T.W. Ademars Piguet (AP) Iced Bust Down Watch is a true masterpiece and an excellent investment for anyone looking to add a touch of luxury to their collection. With its stunning design, all-natural diamonds, and Swiss movement, this watch is sure to impress. Shop with confidence at RDP Miami Beach Jewelry and experience the luxury and beauty of our bust down AP watches for yourself. Check out our full Bust Down Watch collection.