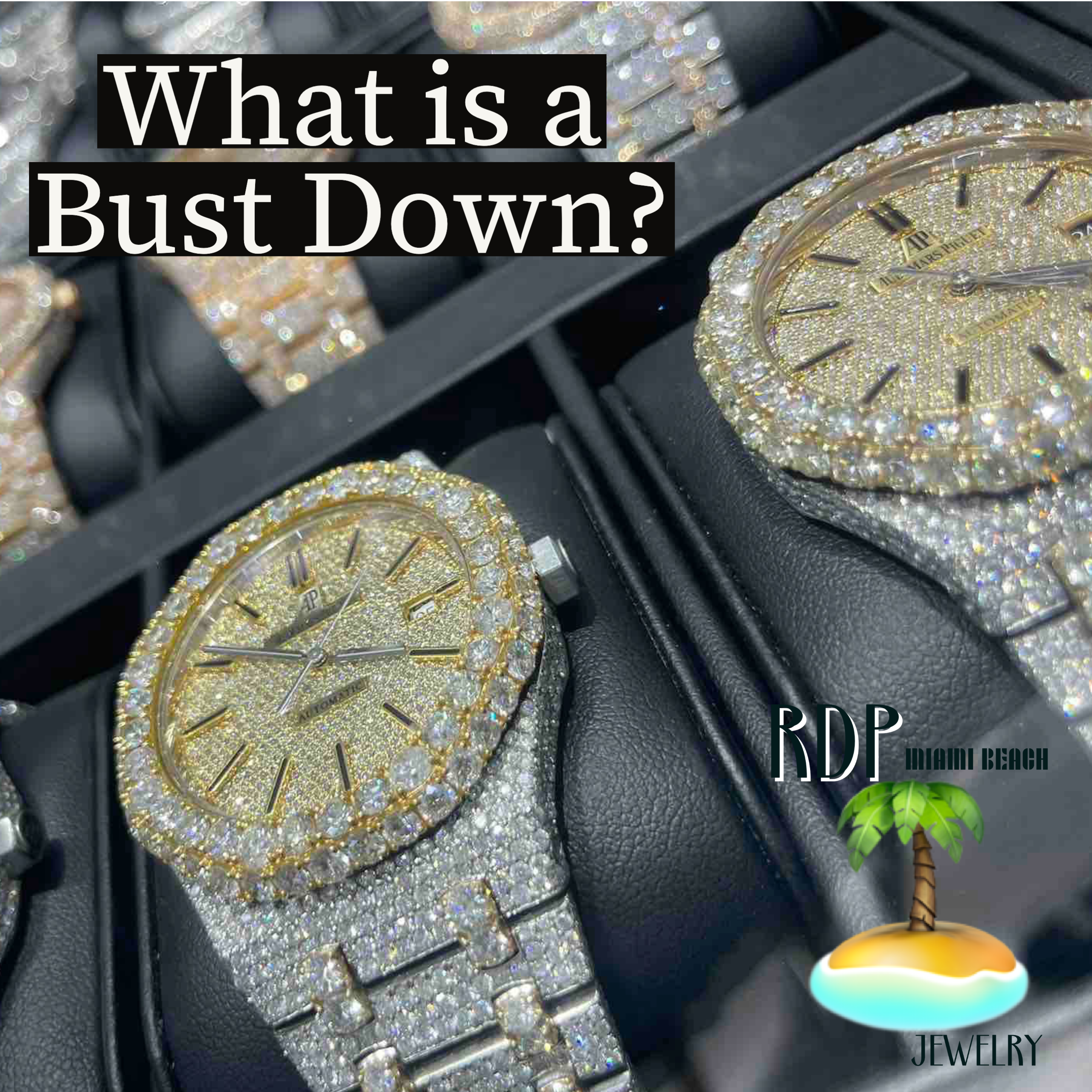 What is a Bust Down?
If you're into jewelry, you've probably heard the term "bust down" thrown around a lot lately. But what exactly does it mean?
What is a Bust Down?
A "bust down" is a piece of jewelry that has had diamonds encrusted on top of whatever piece of jewelry it is. The prices vary as the quality of the diamonds increase. A bust down can be referred to by its synonym, "iced out". Both meaning the same thing. 
Types of Bust Down Jewelry
This includes chains, watches, bracelets, or any other piece of jewelry that has been heavily customized with high quality diamonds.
RDP Jewelry is a Miami Beach jewelry store that buys and sells bust down diamond items.
One of the most popular types of bust downs are Bust Down Watches, which Renee De Paris claims to sell the best of in the country. Their collection includes Rolex bust down iced out Cartier watches, iced out AP watches, and other iced out watches.
If you're in the market for a Rolex bust down, Renee De Paris has a wide selection to choose from. Their Rolex Bust Down collection includes the bust down Rolex 41mm, bust down watch Rolex, Rolex Datejust bust down, bust down Rolex Avalanche, 36mm bust down Rolex, and 41mm bust down Rolex.
For those who prefer Cartier watches, Renee De Paris also offers the best Iced Out Cartier Watch available, iced out with VS1 VVS1 natural diamonds.
In addition to watches, Renee De Paris also has a variety of bust down chains available in tennis, Miami Cuban link, baguette chains, and rope. They also have a collection of gold chains in Cuban link, figaro, rope, tennis, and more. Learn more about Bust Down AP.
Conclusion
A bust down is a piece of jewelry that has had diamonds added all around the piece of jewelry.