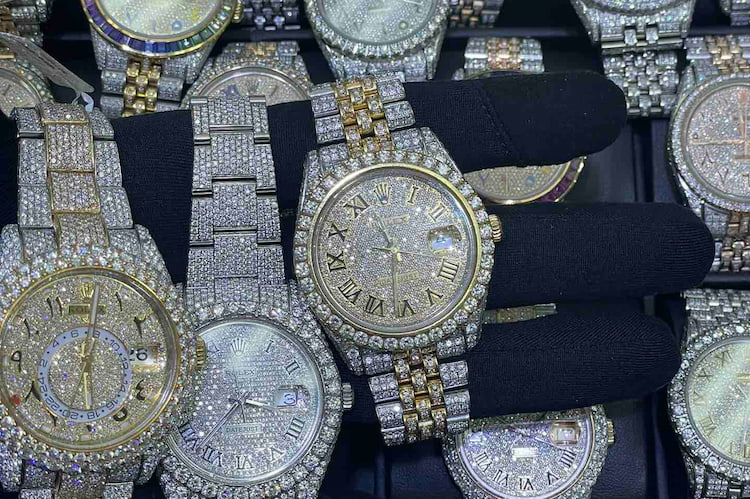 What is Bust Down Jewelry?
What is Bust Down Jewelry?
If you've ever heard the term "bust down jewelry," you might be wondering what exactly it means. In this blog post, we'll delve into the world of bust down jewelry and explore its allure and significance in the fashion industry.
The Definition of Bust Down Jewelry
Bust down jewelry refers to a type of jewelry that is lavishly adorned with diamonds or other precious gemstones. The term "bust down" is derived from the idea of breaking down a piece of jewelry and covering it completely with stones, creating a dazzling and opulent appearance.
The Intricate Process
Creating bust down jewelry is a meticulous and time-consuming process that requires the expertise of skilled craftsmen. First, the jewelry piece is carefully disassembled, allowing every nook and cranny to be encrusted with diamonds or gemstones. These stones are meticulously set, ensuring a secure and flawless finish. The end result is a stunning piece that emanates brilliance and luxury.
The Allure of Bust Down Jewelry
Bust down jewelry has gained immense popularity among fashion enthusiasts and celebrities alike. The allure lies in its ability to transform an ordinary piece of jewelry into an extraordinary work of art. Whether it's a bust down watch, chain, or bracelet, the addition of diamonds elevates the piece to new heights of elegance and sophistication.
OG Jewelers Miami: Your Destination for Bust Down Jewelry
If you're looking to own a breathtaking piece of bust down jewelry, OG Jewelers Miami is the ultimate destination. With a reputation for excellence and a wide selection of stunning pieces, OG Jewelers Miami has become a go-to source for those seeking the finest bust down jewelry.
At OG Jewelers Miami, you can find an exquisite collection of bust down watches, chains, bracelets, and more. For example, their bust down watches selection features renowned brands like Rolex and Cartier, meticulously encrusted with diamonds to create a dazzling timepiece.
When it comes to bust down chains, OG Jewelers Miami offers a variety of options, including Miami Cuban links, tennis chains, and baguette chains, all meticulously adorned with diamonds to add a touch of luxury to any outfit.
OG Jewelers Miami is committed to providing exceptional quality and craftsmanship in every piece of jewelry they offer. Their dedication to customer satisfaction and their extensive knowledge of the industry make them the ideal choice when it comes to purchasing your dream bust down piece.
In conclusion, bust down jewelry represents the epitome of luxury and style. With its intricate craftsmanship and breathtaking beauty, it's no wonder why bust down jewelry has become a coveted fashion statement. When you're ready to own a piece of this extraordinary jewelry, look no further than OG Jewelers Miami, where elegance and sophistication come to life.
Visit OG Jewelers Miami today and explore their exquisite collection of bust down jewelry to find the perfect piece that reflects your unique style and celebrates the allure of diamonds like never before.