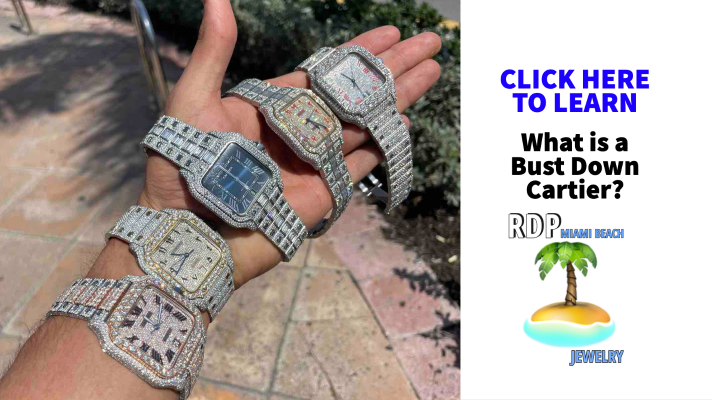 What is a Bust Down Cartier? Demystifying the Process and Value
A Cartier bust down is a Cartier watch that has had Diamonds added to the band, bezel, and dial. To give it a elegant and flashy look. What is a Cartier Santos Bust Down?
Introduction
Cartier is a brand synonymous with luxury and prestige. One of the most popular and sought-after pieces in their collection is the Cartier Bust Down watch. If you're not familiar with the term "Bust Down," it may seem like a confusing and intimidating concept. However, understanding what a Cartier Bust Down is and how it is made can help you appreciate the craftsmanship that goes into creating this masterpiece. In this article, we will provide a comprehensive guide to the Cartier Bust Down, from its definition and history to pricing and care. Click here to learn what is a Cartier Bust Down.
What is Cartier?
Before diving into the world of Cartier Bust Down, it's important to understand what Cartier is. Cartier is a luxury jewelry and watch brand that was founded in Paris in 1847 by Louis-Francois Cartier. Over the years, Cartier has become a symbol of elegance and style, with an impressive collection of jewelry, watches, and accessories.
The term "Bust Down" is used in the jewelry industry to describe the process of taking a plain watch or piece of jewelry and adding diamonds or other precious stones to it. The end result is a dazzling piece that is sure to turn heads. Click here to read "What is a Bust Down?"
The process of "Busting Down" Cartier jewelry is a meticulous one that requires skill and expertise. First, the jeweler carefully disassembles the piece and removes any existing stones. Then, they create a design for the new piece, placing the stones in a pattern that maximizes their brilliance and beauty. Finally, the jeweler meticulously reassembles the piece, ensuring that every stone is perfectly placed and securely held in place.
Tools and techniques used in the process can vary depending on whether the "Bust Down" is done using traditional or modern techniques. Traditional techniques often involve hand-crafting the piece, while modern techniques may involve the use of technology and machinery.
The Popularity of Cartier Bust Down
Cartier Bust Down has become increasingly popular in recent years, with celebrities and influencers showcasing their stunning pieces on social media. The rise of hip-hop culture has also contributed to the popularity of Bust Down jewelry, with rappers and artists often flaunting their Cartier pieces in music videos and on stage.
If you're looking to invest in a Cartier Bust Down watch, RDP Jewelry is the perfect place to start. With a reputation for quality and craftsmanship, RDP Jewelry offers a wide selection of Cartier Bust Down watches at competitive prices.
Authentic vs. Fake Cartier Bust Down
When it comes to Cartier Bust Down, it's important to be able to distinguish between authentic and fake pieces. Some common signs of a fake Cartier Bust Down include poor craftsmanship, loose stones, and a lack of attention to detail.
Cartier Bust Down Pricing
The cost of a Cartier Bust Down watch typically ranges from $7,000 - $100,000 depending on the size, model, and Diamonds used. What is the price to bust down a watch?
If you're looking for a top-quality Bust Down Cartier Watch, you're in the right place! RDP (Renee De Paris) Miami Beach Jewelry offers the best prices on these stunning timepieces, with a range of styles to suit every taste.
Our Iced Out Cartier Watches are the perfect choice for anyone who wants to stand out from the crowd. These watches are encrusted with natural VS/VVS diamonds, and we offer the best prices in the country. Check out our full collection here.
One of our most popular Iced Out Cartier Watches features blue diamonds and an Arabic dial. This watch is a real head-turner and is guaranteed to get you noticed. You can purchase it here.
Our 2021 Stainless Steel Iced Out Cartier Watch features an incredible 30 carats of natural VS1 diamonds and is the ultimate statement piece. You can find it here.
For something a little different, check out our Yellow Two-Tone Bust Down Cartier Watch. This watch features 22 carats of VS1 natural diamonds and is guaranteed to turn heads. You can purchase it here.
Our Iced Screws Bezel Arabic Dial Cartier Watch is a real showstopper. Featuring 29 carats of natural VS1/VVS1 diamonds, this watch is truly one-of-a-kind. You can find it here.
Finally, our 2020 Stainless Steel Bust Down Cartier Watch is a classic choice. With 25 carats of VS1 diamonds and a 41mm face, this watch is perfect for anyone who wants a timeless, elegant look. You can purchase it here.
We hope you've enjoyed browsing our collection of Bust Down Cartier Watches. If you have any questions, please don't hesitate to get in touch! Contact us here.
Is Cartier Bust Down Worth the Investment?
Investing in a Cartier Bust Down watch can be a significant financial decision, but many people believe it is worth the investment. The quality of Cartier craftsmanship and the beauty of the stones used make it a timeless piece that will only increase in value over time.
Caring for Cartier Bust Down
Proper care is essential to ensure the longevity of Cartier Bust Down. Here are some tips for maintaining and cleaning Cartier Bust Down:
Clean regularly: Clean the Bust Down regularly with a soft-bristled brush and a mild detergent to remove dirt and oil.

Avoid harsh chemicals: Avoid using harsh chemicals, such as bleach, on the Bust Down as they can damage the metal and gems.

Store properly: Store the Bust Down in a soft cloth or jewelry box to prevent scratches and other damages.

Professional cleaning: Get the Bust Down professionally cleaned and polished by a jeweler every few years to keep it looking its best.
Cartier Bust Down Trends to Watch
The popularity of Cartier Bust Down continues to rise, with new trends emerging. Here are some of the latest trends in Cartier Bust Down:
Customization: Customizing a Cartier Bust Down is becoming more popular. Customers can choose the metal, gems, and design of their Bust Down to create a unique piece.

Minimalism: Minimalist designs are becoming more popular in Cartier Bust Down. Customers are opting for simpler designs with fewer gems and a more subtle "Bust Down" effect.

Colorful gems: Colorful gems, such as emeralds and sapphires, are becoming more popular in Cartier Bust Down. Customers are opting for pieces that add a pop of color to their outfit.
Conclusion
In conclusion, Cartier Bust Down is a luxurious and valuable jewelry piece that is worth considering as an investment. Understanding the process of "Busting Down" and the factors that affect its price is crucial when considering buying one. Additionally, proper care and maintenance of the Bust Down are essential to ensure its longevity. With the rise of customization and new trends emerging, the popularity of Cartier Bust Down is set to continue for years to come.