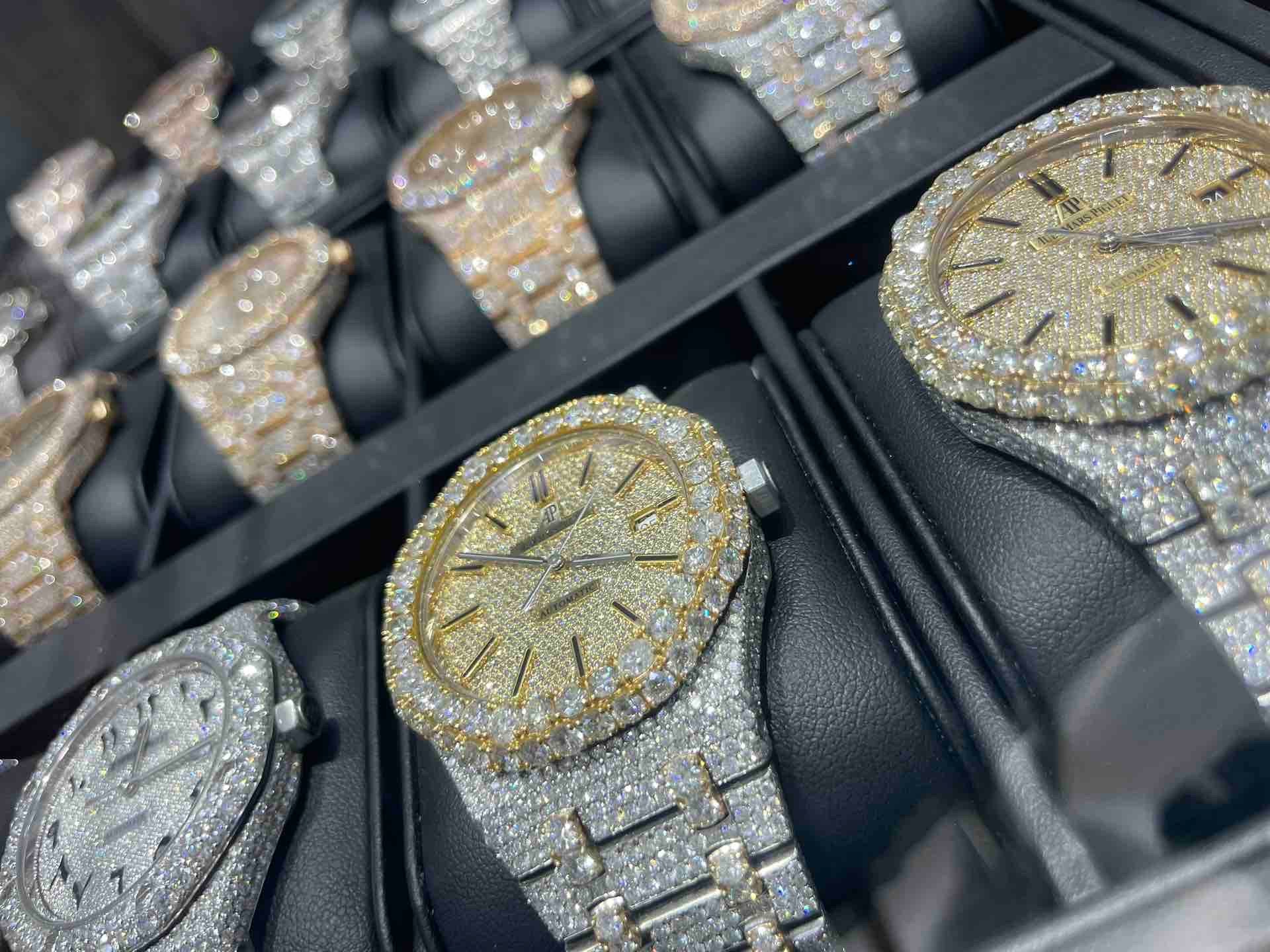 Experience Unmatched Luxury with Bust Down AP Watches at RDP Jewelry
Title: Shimmering Glory of Bust Down AP Watches at RDP Jewelry
In the world of luxury watches, few timepieces command attention and admiration quite like a Bust Down Audemars Piguet (AP). A cherished asset for the discerning collector, the AP, when embellished with exquisite diamonds in a bust down style, becomes a symbol of unmatched opulence. But where do you find such a masterpiece? Look no further than RDP Jewelry Miami Beach, the top-notch destination for all your luxury watch needs.
Exploring the Charm of Bust Down AP Watches
Every Bust Down AP watch is a conversation starter, a fine blend of precision, craftsmanship, and sheer beauty. Drenched in a sea of sparkling diamonds, the watch is as much a piece of jewelry as it is a precision timekeeping device.
The Iced Out AP Arabic Dial
One of the star attractions in the bust down AP range at RDP Jewelry is the Iced Out AP Arabic Dial. This stunning timepiece is a testament to the art of watchmaking, with its intricate Arabic dial set against a backdrop of sparkling diamonds.
The AP Chandelier Watch
The AP Chandelier Watch from RDP Jewelry is a celebration of luxury and art. Each inch of this extravagant timepiece is covered in dazzling diamonds, making it a literal chandelier for your wrist.
Why Choose RDP Jewelry for Your Bust Down AP?
When you're in the market for a bust down AP, you need a trusted partner who understands and appreciates luxury timepieces. RDP Jewelry, with their expertise, quality, and range, makes for an unbeatable choice.
Unrivaled Collection
At RDP Jewelry, the collection of bust down AP watches is second to none. From the iced out AP Arabic dial to the AP chandelier watch, there's something for everyone.
Authenticity Guaranteed
Every AP watch sold by RDP Jewelry is guaranteed to be authentic, ensuring you get nothing but the best.
Fair Pricing
RDP Jewelry not only assures the quality and authenticity of their watches, but they also provide them at fair prices. You get what you pay for, and in the case of RDP Jewelry, you get a whole lot more.
Conclusion
In the quest for the perfect luxury timepiece, the Bust Down AP stands out as a piece de resistance. RDP Jewelry Miami Beach, with their extensive collection and commitment to quality, is undoubtedly the best place to find these magnificent timepieces.
FAQs
1. What is a Bust Down AP Watch? A Bust Down AP Watch is an Audemars Piguet watch embellished with diamonds, creating a stunning iced out appearance.
2. Where can I buy Bust Down AP Watches? You can buy authentic Bust Down AP Watches at RDP Jewelry Miami Beach, which boasts an extensive collection of these luxurious timepieces.
3. What are some popular Bust Down AP watches at RDP Jewelry? Some popular Bust Down AP watches at RDP Jewelry include the Iced Out AP Arabic Dial and the AP Chandelier Watch.
4. Are Bust Down AP Watches expensive? Given their high-quality diamonds and expert craftsmanship, Bust Down AP watches come at a premium price. However, RDP Jewelry offers them at fair prices.