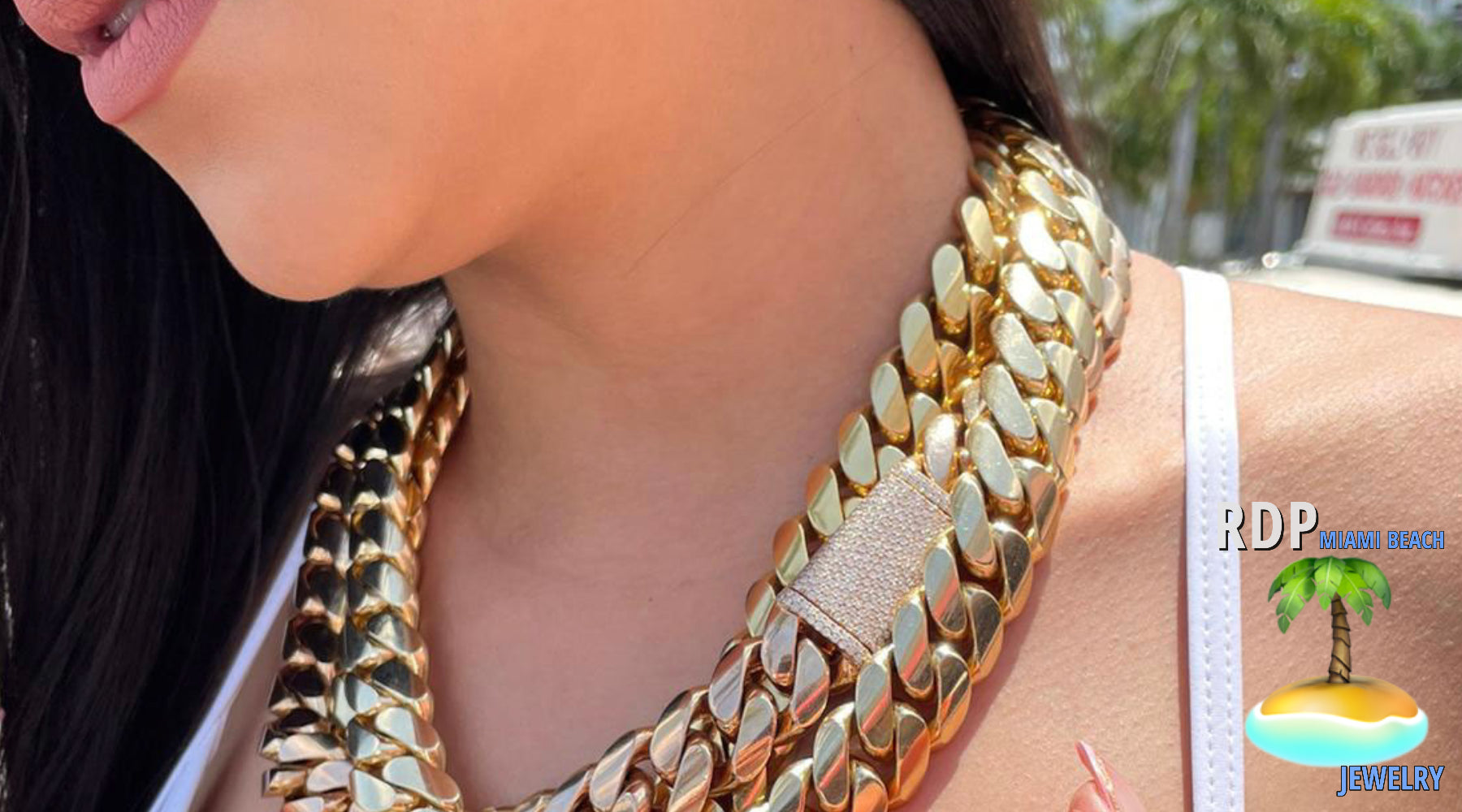 Stunt in Style with the Best Bust Down Cuban Link Chains
If you're searching for a jewelry piece that exudes elegance and makes a bold statement, look no further than the Iced Out Bust Down Cuban Link Chains collection from RDP Jewelry. Crafted with meticulous attention to detail and adorned with dazzling diamonds, these chains are the epitome of luxury and style.
The Beauty of Bust Down Cuban Link Chains
Cuban link chains are renowned for their timeless design and durability. With their interlocking links and sturdy construction, they provide a classic and versatile accessory that can be worn with any outfit. The addition of diamonds takes the elegance of these chains to a whole new level.
Meticulously Encrusted with Diamonds
What sets the Iced Out Bust Down Cuban Link Chains collection apart is the meticulous craftsmanship and attention to detail that goes into each piece. The diamonds used are of the highest quality, ensuring maximum brilliance and sparkle. Each diamond is expertly set to create a seamless and captivating design that catches the light from every angle.
The collection features a range of exquisite Cuban link chains, each meticulously encrusted with diamonds. From shorter lengths to longer chains, you can choose the perfect piece that suits your desired style and preference. The width of the chains varies as well, allowing you to find the ideal balance between boldness and subtlety.
A Variety of Styles to Choose From
RDP Jewelry offers a diverse range of options within the Iced Out Bust Down Cuban Link Chains collection. Whether you prefer a chunkier chain or a more delicate design, there's something for everyone. You can select from different lengths, widths, and diamond sizes to find the perfect chain that suits your personal style and preference.
The collection includes Cuban link chains with different diamond patterns and arrangements. Some feature a continuous line of diamonds throughout the entire chain, creating a mesmerizing sparkle. Others showcase diamonds in specific sections or patterns, adding a unique touch to the design. The variety of styles ensures that you can find a chain that perfectly matches your individual taste.
Versatile and Stylish
One of the standout features of the Iced Out Bust Down Cuban Link Chains is their versatility. These chains effortlessly transition from casual to formal occasions, adding a touch of sophistication to any ensemble. Whether you pair it with a T-shirt and jeans or wear it with a little black dress, these chains are sure to turn heads and make a lasting impression.
The Cuban link design itself is timeless and versatile, allowing you to wear it on its own as a statement piece or layer it with other necklaces for a more personalized look. The added brilliance of the diamonds elevates the style and ensures that your chain will catch the light and draw attention wherever you go.
Choose RDP Jewelry for Unparalleled Quality
When it comes to purchasing luxury jewelry, RDP Jewelry stands out as a trusted and reputable source. Their commitment to quality craftsmanship, attention to detail, and exceptional customer service set them apart from the rest. By choosing RDP Jewelry, you can be confident that you're investing in a piece that will last a lifetime and continue to captivate with its beauty.
RDP Jewelry takes pride in using only the highest quality materials and employing skilled artisans to create their jewelry pieces. Each chain from the Iced Out Bust Down Cuban Link Chains collection undergoes rigorous quality checks to ensure that it meets the brand's standards of excellence. When you wear an RDP Jewelry chain, you can trust that you're adorning yourself with a piece that embodies luxury, durability, and timeless beauty.
To explore the exquisite Iced Out Bust Down Cuban Link Chains collection and find the perfect chain to enhance your style, visit RDP Jewelry's website.