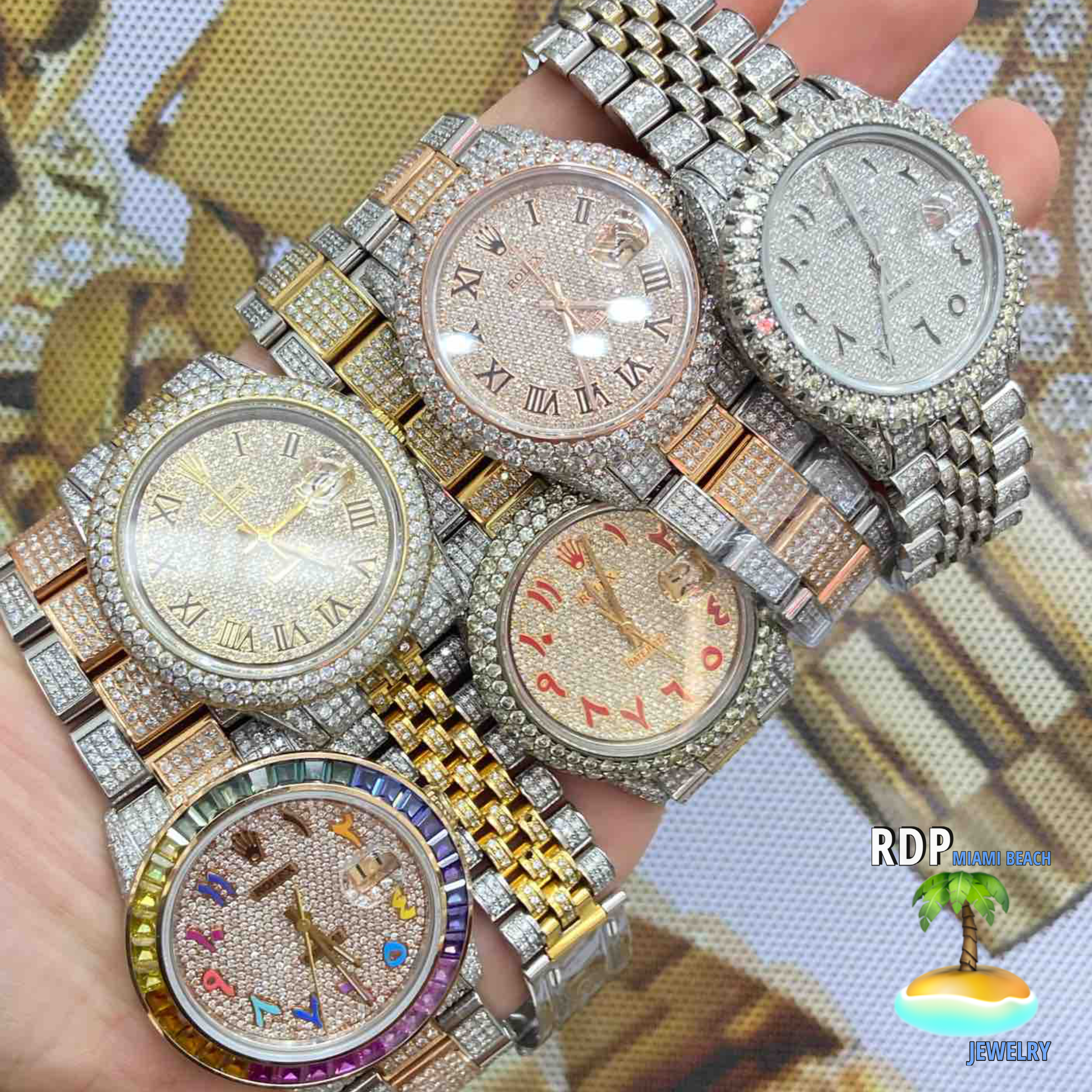 The Ultimate Guide to Buss Down Watches at RDP Jewelry Miami Beach
Welcome to the dazzling world of Buss Down Watches at RDP Jewelry Miami Beach, where luxury and craftsmanship come together to create timepieces that are nothing short of spectacular.
The Prestige of Rolex Bust Down
One of our crown jewels is the Rolex Bust Down. These watches are a marvel of luxury, each piece fully iced out with natural VS1 VVS1 diamonds, reflecting the highest standards of quality and elegance. Available at RDP Miami Beach Jewelry, these watches are a true representation of what it means to wear a statement piece.
The Sophistication of Iced Out Cartier Watches
For those with a penchant for the finer things in life, our selection of the best iced out Cartier watches is sure to captivate. Adorned with VS1 VVS1 natural diamonds, each Cartier watch in our collection is a testament to the legacy of luxury and sophistication that the brand is renowned for.
The Exclusivity of Bust Down AP Watches
Our Bust Down AP collection features Iced Out Audemars Piguet watches, which are nothing short of a horological masterpiece. These watches boast the finest VS VVS natural diamonds, along with all original parts and movements, ensuring not just beauty but also the integrity and functionality that collectors value.
A World of Bust Down Watches
At Renee De Paris Jewelry Miami Beach, we pride ourselves on our diverse range of bust down watches. From classic Rolex to chic Cartier, and the avant-garde Audemars Piguet, our collection caters to all tastes. We also offer services to buy Rolex watches, making us a one-stop destination for luxury watch enthusiasts.
The Ultimate Status Symbol: Bust Down Cuban Link Chain
Complement your luxury watch with our Bust Down Cuban Link Chains. Crafted with VS VVS1 natural diamonds and available in both 10k and 14k gold, these chains are more than accessories; they are a testament to Miami Beach's luxurious lifestyle and craftsmanship.
Connect with RDP Jewelry
For a personalized experience or to view our collection, we invite you to contact RDP Jewelry. Visit us at 6608 Collins Ave Miami Beach or call at 305-465-7554. Our team is dedicated to assisting you in finding the perfect piece that resonates with your unique style.
Compact Luxury: 36mm Bust Down Rolex
Prefer something more understated? Our 36mm Bust Down Rolex watches offer the same luxurious feel and diamond embellishment but in a more compact form factor. Ideal for those who appreciate subtlety without compromising on luxury.
Explore RDP Jewelry Miami Beach's world of fine watches, where each piece is a blend of art and precision, designed for those who desire the extraordinary.