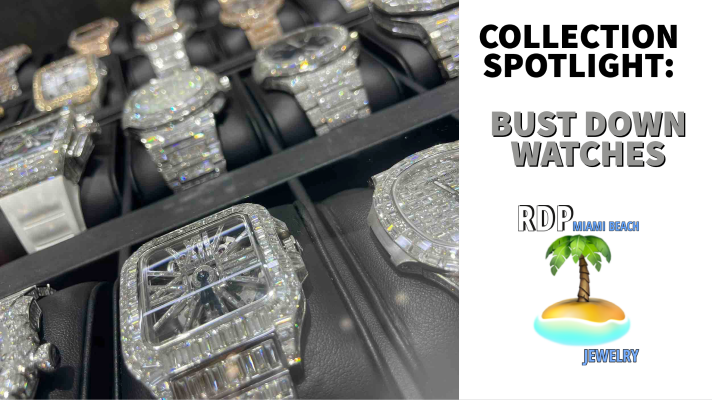 RDP Jewelry Bust Down Watches Miami Beach
When it comes to luxury watches, nothing is quite as impressive as a bust down watch. At RDP Miami Beach Jewelry, we pride ourselves on offering the best selection of bust down watches available anywhere. From Rolex bust down watches to iced out Cartier watches, we have it all.
A bust down watch is a luxury timepiece that has been customized with diamonds or other precious stones. The entire watch, including the band, dial, and bezel, is covered in diamonds, giving it a unique and eye-catching appearance.
Our collection of bust down watches includes some of the most sought-after models on the market today. We offer a wide variety of Rolex bust down watches, including the 41mm bust down Rolex, the Datejust bust down Rolex, and the 36mm bust down Rolex.
In addition to Rolex, we also offer a stunning selection of iced out Cartier watches. These watches are fully iced out with VS1 and VVS1 natural diamonds, making them the ultimate statement piece.
Other options in our collection include bust down AP watches and Patek Philippe watches. We even have fully iced out Richard Mille watches for those who want something truly unique.
At RDP Miami Beach Jewelry, we are committed to offering the highest quality bust down watches available. All of our watches are made with natural diamonds and the highest grade materials, ensuring that you get a watch that is both beautiful and durable.
In addition to our high-quality products, we also offer exceptional customer service. Our team is dedicated to ensuring that each and every customer is completely satisfied with their purchase.
Conclusion
If you are looking for the best bust down watches available, look no further than RDP Miami Beach Jewelry. Our collection of bust down watches is second to none, and our commitment to quality and customer satisfaction is unmatched in the industry. Visit our website today to see our full selection of watches and find the perfect piece for you.