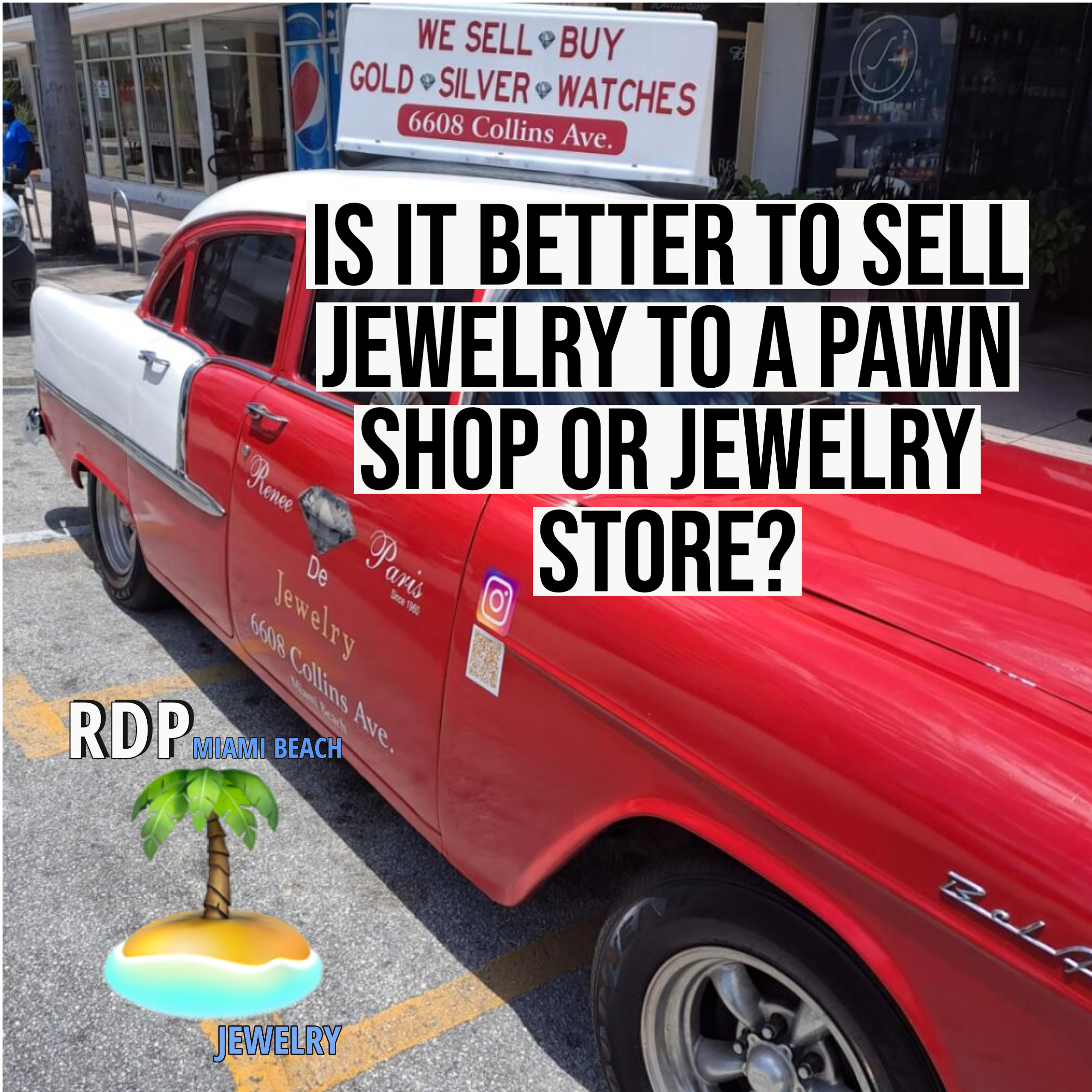 Is it Better to Sell Jewelry to a Pawn Shop or Jewelry Store?
Are you considering selling your jewelry but not sure where to start? You may be wondering if it's better to sell your jewelry to a pawn shop or a jewelry store. In this post, we'll explore the pros and cons of both options, and introduce you to RDP Miami Beach Jewelry, a trusted jewelry store that buys and loans on jewelry.
Pawn shops are known for buying items quickly and offering cash on the spot. However, they often offer lower prices than jewelry stores because they need to resell the items quickly to make a profit. Additionally, pawn shops may not have the expertise to accurately appraise your jewelry, meaning you could receive less than its true value.
Jewelry stores typically offer higher prices than pawn shops because they have the expertise to properly appraise your jewelry and market it to their customers. However, the process may take longer than selling to a pawn shop, as they may need to find a buyer for your specific item.
At RDP Miami Beach Jewelry, you can sell your jewelry for cash or get a loan on it. They offer the lowest percentage interest monthly in the country for jewelry loans, making them a great option if you need cash quickly but don't want to part with your valuable pieces permanently. They also offer layaway on all of their products, giving you the option to pay in installments.
In addition to buying and loaning on jewelry, RDP Miami Beach Jewelry also buys all kinds of watches and offers the best prices in the country. They're experts in the field, so you can trust that you'll receive a fair appraisal and a great price for your item.
If you're looking to sell or loan on your jewelry, consider reaching out to RDP Miami Beach Jewelry. You can visit their location at 6608 Collins Ave in Miami Beach, which is conveniently located near the historic Fontainebleau hotel. You can also contact them for more information.
And if you're in the market for a bust down watch, RDP Miami Beach Jewelry has you covered. They offer a variety of high-end options, including Rolex bust downs, bust down Cartier watches, iced out Audemar Piguet watches, chandeliers, and iced all-natural diamonds. Check out their bust down watches collection to see their full selection.
In conclusion, whether you choose to sell your jewelry to a pawn shop or a jewelry store ultimately depends on your personal situation and priorities. However, if you're looking for a trusted jewelry store that buys and loans on jewelry, RDP Miami Beach Jewelry is a great option to consider.