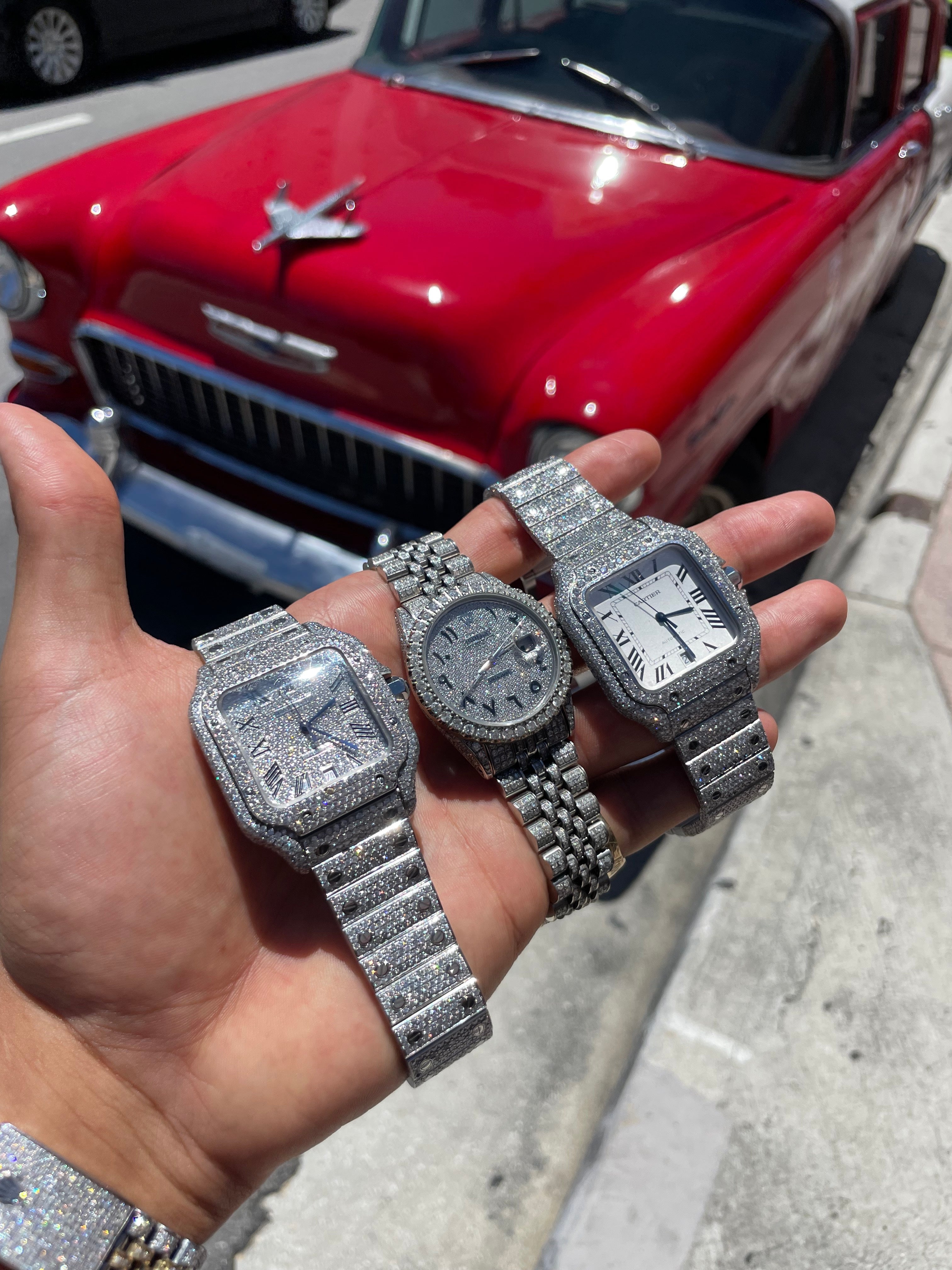 Cartier Santos Bust Down: A Fusion of Classic Elegance and Dazzling Brilliance
In the grand tapestry of luxury watches, the Cartier Santos has always held a distinctive place. Renowned for its legacy and unparalleled design, its allure intensifies when adorned in a 'bust down' style, merging the age-old tradition with the shimmer of diamonds.
Delving into the Cartier Santos' Storied History
To truly appreciate the Cartier Santos Bust Down, one must first journey through the history of Cartier Santos. Unveiled in 1904, this timepiece was a product of friendship between Louis Cartier and Brazilian aviator, Alberto Santos-Dumont. Crafted to assist Santos-Dumont in reading time mid-flight, it didn't just become one of the inaugural wristwatches but also a symbol of pioneering luxury.
Embracing the 'Bust Down' Phenomenon
The term "Bust down" is synonymous with watches that have been exquisitely customized, mainly by embedding them with diamonds or other precious gems, often gracing every perceivable part of the watch. The fusion of the Cartier Santos with this diamond brilliance transforms it from a mere time-telling accessory to a resplendent statement piece – a beacon of opulence and craftsmanship.
Distinct Features of the Cartier Santos Bust Down:
Symphony of Design: The iconic square facade and visible screws of Cartier Santos are a canvas for customization. The design permits a symmetrical and captivating placement of diamonds.

Master Craftsmanship: The act of setting a timepiece with diamonds requires unparalleled precision and skill. Every diamond on the Cartier Santos Bust Down embodies this artistry, harmonizing with the watch's intrinsic design.

Adaptable Luxury: Despite its opulent transformation, the Cartier Santos Bust Down is strikingly versatile. Be it a star-studded gala or an exclusive gathering, this timepiece seamlessly fits, making it a sought-after choice for both horologists and the elite.
In Conclusion
The Cartier Santos Bust Down is not just a watch; it's an experience. It's where timeless heritage meets modern-day opulence. For those who value legacy, craftsmanship, and a touch of radiant luxury, this timepiece is more than an accessory; it's a narrative of elegance.