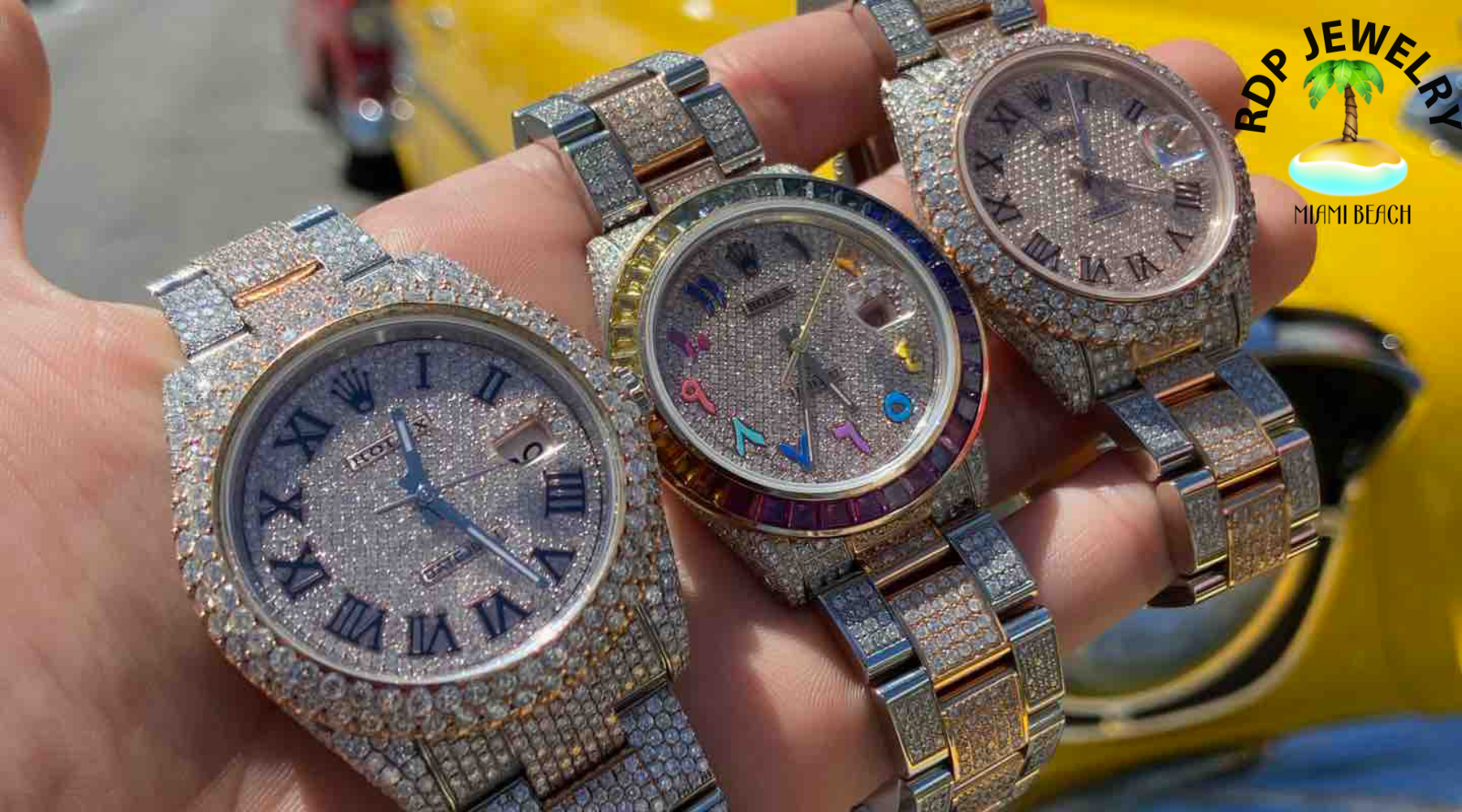 The Exquisite Craftsmanship of Bust Down Rolex VVS at RDP Miami Beach
Explore the world of luxury with Rolex Bust Down watches at Renee De Paris (RDP) Miami Beach, where elegance meets unparalleled craftsmanship.
Why RDP Miami Beach for Bust Down Watches?
At RDP Miami Beach, we offer the best bust down watches in the country. Our collection includes Rolex, Cartier, and Audemars Piguet, each meticulously crafted to perfection.
Rolex Bust Down: A Symphony in Diamonds
Our Rolex Bust Down collection ranges from 36mm to 41mm, featuring models like Rolex Datejust and Rolex Avalanche, each adorned with VVS quality diamonds.
Cartier's Iced Out Elegance
Discover the Iced Out Cartier Watch range at RDP Miami Beach, showcasing Cartier watches iced out with VS1 VVS1 natural diamonds, symbolizing luxury and sophistication.
Beyond Timepieces: Chains and More
Our collection extends to bust down chains and gold chains, available in designs like tennis, Miami Cuban link, and more, all crafted with the finest materials.
The Allure of Bust Down AP
Experience the magnificence of Bust Down AP watches, each a masterpiece adorned with VVS VS diamonds.
The Finest Iced Out Cuban Link Chains
Our iced out Cuban link chains are a testament to craftsmanship, made with 10k and 14k gold and natural diamonds.
We Buy: Your Trusted Jewelry Partner
At RDP Miami Beach, we buy jewelry, offering competitive prices for your precious items, including watches, chains, and gold.
FAQs About Rolex Watches
Why are Rolex so overpriced?
Rolex watches are considered overpriced by some due to their brand prestige, high-quality materials, and craftsmanship, which contribute to their value and longevity.
What is the cheapest Rolex type?
The Rolex Oyster Perpetual is often considered the most affordable entry-level Rolex model.
Does a Rolex decrease in value?
Most Rolex watches maintain or appreciate in value over time, thanks to their timeless design and brand reputation.
Are older Rolex watches worth more?
Older Rolex watches can be worth more due to their rarity, historical value, and unique characteristics.
Is it better to buy newer or older Rolex?
The choice between newer or older Rolex depends on personal preference, budget, and the purpose of the purchase (investment vs. fashion statement).