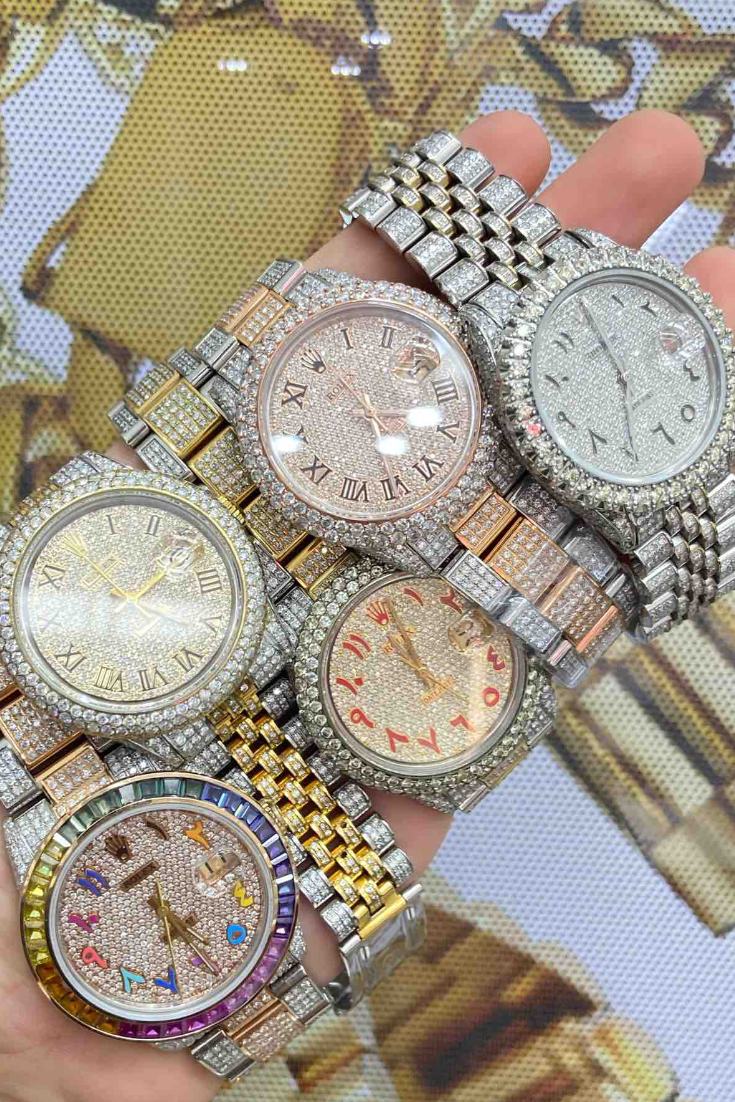 Explore the Elite World of Bust Down AP Watches at RDP Jewelry Miami Beach
At RDP Jewelry Miami Beach, we are proud to present our exclusive collection of Bust Down AP watches, a true symbol of luxury and precision craftsmanship. These watches represent more than just timekeeping; they are a statement of sophisticated taste and elite status.
The Prestige of Bust Down AP Watches
Our selection of Bust Down AP Watches features Audemars Piguet timepieces that are meticulously iced out with VS VVS natural diamonds. These diamonds are not just adornments; they are a testament to our commitment to quality and luxury. Each AP watch in our collection maintains all original parts and movements, ensuring authenticity and mechanical perfection.
The Luxury of Rolex Bust Down
In addition to our AP collection, we offer an exquisite range of Rolex Bust Down watches. Each Rolex is fully iced out with natural VS1 VVS1 diamonds, reflecting a blend of traditional elegance and modern luxury. These timepieces are available at RDP Miami Beach Jewelry, symbolizing the pinnacle of high-end watchmaking.
The Elegance of Iced Out Cartier Watches
For those who admire timeless elegance, our Iced Out Cartier Watches are the perfect choice. Each Cartier watch in our collection is adorned with VS1 VVS1 natural diamonds, offering a sparkling display of luxury and sophistication.
A Diverse Range of Bust Down Watches
At Renee De Paris Jewelry Miami Beach, we take pride in our diverse collection of Bust Down Watches. Whether you are looking for a Rolex, Cartier, or AP, our collection caters to all preferences. We also provide services to buy Rolex watches, ensuring a comprehensive experience for luxury watch enthusiasts.
The Ultimate Accessory: Bust Down Cuban Link Chain
To complement your luxury watch, consider our Bust Down Cuban Link Chains. Crafted with VS VVS1 natural diamonds and available in various gold karats, these chains are the epitome of Miami Beach's fine jewelry craftsmanship.
Personalized Service at RDP Jewelry
For a personalized shopping experience, contact RDP Jewelry. Our team at 305-465-7554 or our store at 6608 Collins Ave Miami Beach is ready to assist you in finding the perfect piece of luxury.
The Compact Elegance of 36mm Bust Down Rolex
For those who prefer a more subtle size, our collection includes the 36mm Bust Down Rolex. These watches retain the luxurious essence of Rolex, fully iced out with diamonds, offering an elegant and refined statement.
Discover the world of luxury watches at RDP Jewelry Miami Beach, where every timepiece tells a story of opulence, style, and unrivaled craftsmanship.