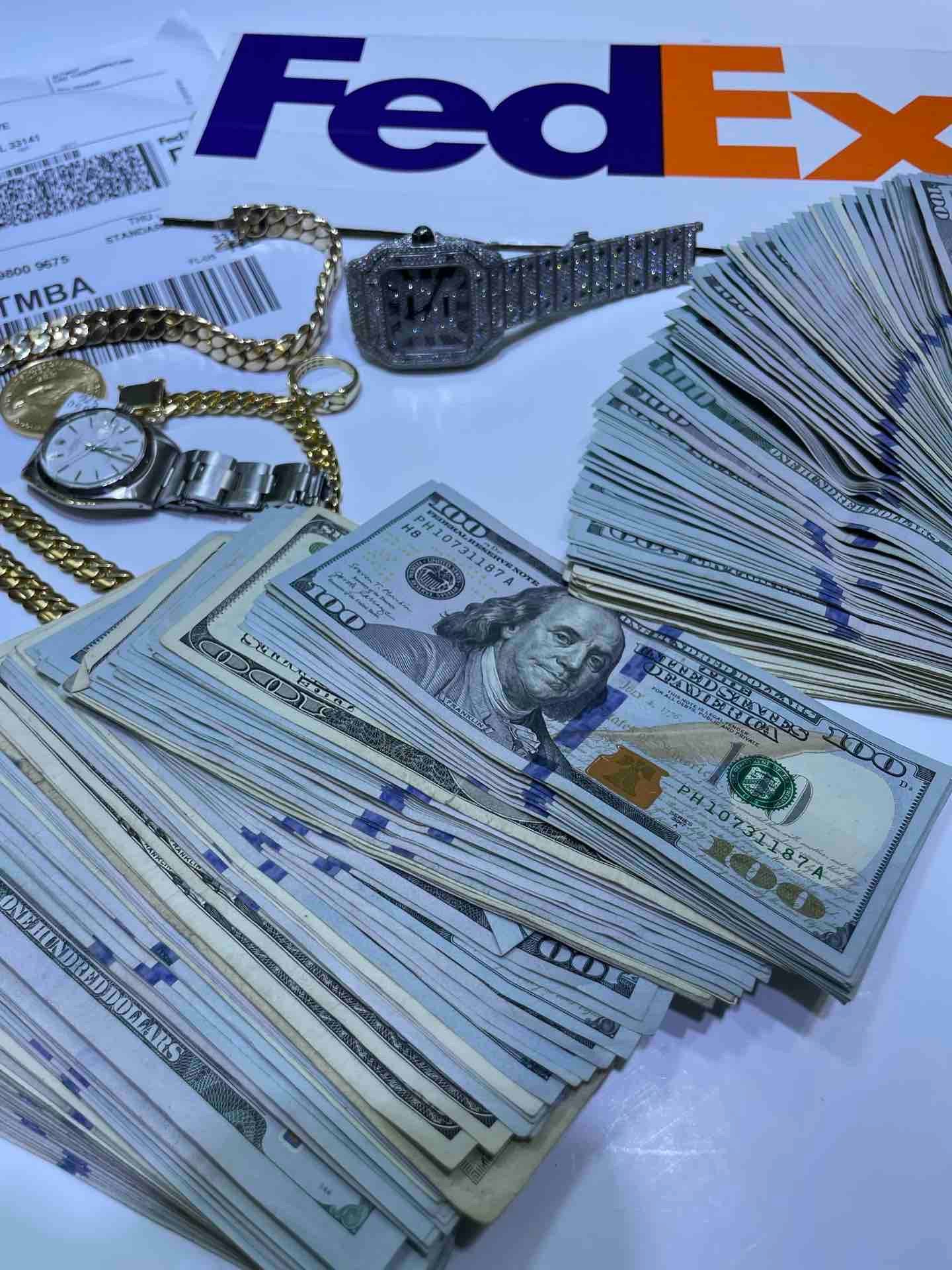 Sell My Jewelry - RDP Miami Beach Jewelry
How to Maximize Your Earnings When Selling Your Jewelry
At some point in life, you may decide to sell some of your jewelry, for various reasons. Perhaps you need extra cash, want to upgrade your collection, or inherited some pieces that don't match your style. Whatever the motivation, you want to get the most money possible for your jewelry. In this guide, we will share some tips and tricks to help you maximize your earnings and avoid common pitfalls.
Understand the Value of Your Jewelry
The first step in selling your jewelry is to determine its value. You cannot expect to get a fair price if you don't know what you have. Some factors that influence the value of jewelry include:
Material: gold, silver, platinum, diamonds, pearls, gemstones, etc.
Condition: new, used, damaged, repaired, vintage, antique, etc.
Design: brand, style, age, rarity, craftsmanship, etc.
Market demand: local, national, international, online, offline, etc.
To assess the value of your jewelry, you can use various methods, such as:
Appraisal: hiring a professional appraiser to evaluate your jewelry and issue a written report with an estimated value.
Comparison: researching similar jewelry items online or in physical stores to see what prices they sell for and what features they have.
Certification: getting a grading or authentication certificate from a reputable agency that specializes in jewelry, such as GIA, AGS, IGI, etc.
Consultation: seeking advice from a trusted jeweler or collector who has experience in buying and selling jewelry.
By knowing the value of your jewelry, you can set a realistic price range and negotiate with potential buyers more confidently.
Decide Where and How to Sell Your Jewelry
Once you have a rough idea of what your jewelry is worth, you need to decide where and how to sell it. There are several options to choose from, each with its pros and cons:
Online marketplaces: websites like eBay, Etsy, Amazon, or Craigslist allow you to list your jewelry for sale and connect with potential buyers worldwide. You may have to pay fees or commissions for using these platforms and deal with shipping, payment, and return issues.
Local jewelers: brick-and-mortar stores that buy jewelry may offer you a lower price than what you could get online, but they may also provide you with a faster and more convenient process, as well as a face-to-face interaction.
Auction houses: if you have rare or high-end jewelry, you can consign it to an auction house that specializes in jewelry and attracts wealthy bidders. However, you may have to pay a hefty commission fee and wait for weeks or months before getting paid.
Refiners: if your jewelry contains precious metals or gemstones that have a high intrinsic value but not much resale value, you can sell them to refiners who melt them down and extract the raw materials. However, you may only get paid for the metal or stone weight, not the design or brand.
Private buyers: if you know someone who is interested in buying your jewelry, such as a friend, family member, or acquaintance, you can negotiate a deal directly. However, you may risk damaging your relationship if the transaction doesn't go smoothly or if the price is disputed.
Before you choose where and how to sell your jewelry, make sure you understand the terms and conditions, fees, reputation, and security of each option. You may also want to get multiple quotes or opinions to compare and contrast.
Prepare Your Jewelry for Sale
Once you have decided where and how to sell your jewelry, you need to prepare it for the market. Here are some tips to enhance its appeal and value:
Clean and polish your jewelry: use 
a soft cloth and mild soap or jewelry cleaner to remove any dirt, dust, or residue from your jewelry. This can make your jewelry shine and look more attractive to buyers.

Repair any damage or defects: if your jewelry has any missing stones, loose prongs, tarnish, or scratches, consider getting them fixed or restored before selling. This can increase the value and credibility of your jewelry.
Take high-quality photos: if you plan to sell your jewelry online, make sure you take clear and detailed photos of your jewelry from various angles and in good lighting. This can help buyers see the details and condition of your jewelry better.
Provide accurate descriptions: when you list your jewelry for sale, make sure you include all relevant information about your jewelry, such as the metal type, gemstone type, size, weight, hallmarks, and condition. This can help buyers make informed decisions and avoid misunderstandings or complaints.
Package and ship securely: if you sell your jewelry online or to someone who cannot meet you in person, make sure you package your jewelry securely and use a reliable shipping method with insurance and tracking. This can protect your jewelry from damage or loss during transit.

By preparing your jewelry for sale, you can make it more appealing and trustworthy to potential buyers, and increase your chances of getting a higher price.

Negotiate and Close the Sale

When you finally receive inquiries or offers for your jewelry, you need to be prepared to negotiate and close the sale. Here are some tips to help you navigate this process:

Be polite and professional: whether you communicate with buyers via email, phone, or in person, make sure you maintain a respectful and friendly tone, and avoid using aggressive or pushy language. This can create a positive impression and build trust.
Know your bottom line: before you start negotiating the price, decide what is the minimum amount you are willing to accept for your jewelry, and stick to it. This can prevent you from accepting a lowball offer or getting ripped off.
Listen to the buyer's needs and preferences: try to understand why the buyer is interested in your jewelry, what they like about it, and what their budget or expectations are. This can help you tailor your offer to their needs and build rapport.
Offer incentives or perks: if you want to sweeten the deal, you can offer additional benefits to the buyer, such as free shipping, a certificate of authenticity, a gift box, or a discount for future purchases. This can make your offer more attractive and memorable.
Close the deal professionally: once you and the buyer agree on the terms and price, make sure you provide clear instructions on how to complete the payment, shipping, and feedback process. This can ensure a smooth and satisfactory transaction for both parties.

By negotiating and closing the sale of your jewelry with confidence and professionalism, you can maximize your earnings and reputation as a seller.
If you are looking for a reliable and reputable place to sell your jewelry, look no further than RDP Miami Beach Jewelry. Our expert team of jewelers has years of experience in evaluating, buying, and selling all kinds of jewelry, from antique and vintage pieces to contemporary and custom designs. Here are some reasons why RDP Miami Beach Jewelry is the best place to sell your jewelry:
Professional and personalized service: we understand that selling your jewelry can be a sensitive and emotional process, and we strive to make it as comfortable and convenient for you as possible. Our team will treat you with respect, honesty, and confidentiality, and will work with you to understand your needs and preferences.
Competitive and fair prices: we use a rigorous and transparent appraisal process to determine the value of your jewelry, based on its condition, rarity, craftsmanship, and market demand. We will provide you with a detailed and realistic price range for your jewelry, and will not pressure or deceive you into accepting a lower offer.
Convenient and flexible options: we offer various options for selling your jewelry, depending on your preferences and circumstances. You can visit our store in Miami Beach, Florida, for an in-person appraisal and sale, or you can use our online appraisal and shipping services if you are not able to come in person. We also offer consignment and trade-in options if you prefer to keep some of your jewelry or exchange it for other pieces.
Extensive and diverse clientele: we have a large and loyal customer base of jewelry collectors, enthusiasts, and connoisseurs, who appreciate the quality and beauty of unique and rare pieces. By selling your jewelry to RDP Miami Beach Jewelry, you can reach a wider and more discerning audience than if you sell it on your own or through other channels.
Trusted and reputable reputation: we have built a solid and respected reputation in the jewelry industry, based on our expertise, integrity, and customer satisfaction. We are members of prestigious organizations such as the Jewelers Board of Trade, the Jewelers Vigilance Committee, and the Diamond Council of America, and have received numerous positive reviews and testimonials from our clients.
If you want to sell your jewelry with confidence and convenience, choose RDP Miami Beach Jewelry. Check us out to learn more. We look forward to helping you get the most money and satisfaction from your jewelry sale.
Click here to visit our page for more information.
 

Conclusion

Selling your jewelry can be a challenging and rewarding experience, especially if you follow some best practices and strategies to get the most money and satisfaction. By understanding the value of your jewelry, deciding where and how to sell it, preparing it for sale, and negotiating and closing the sale, you can become a successful and respected seller in the jewelry market. We hope this guide has provided you with valuable insights and inspiration to help you achieve your goals. Good luck!