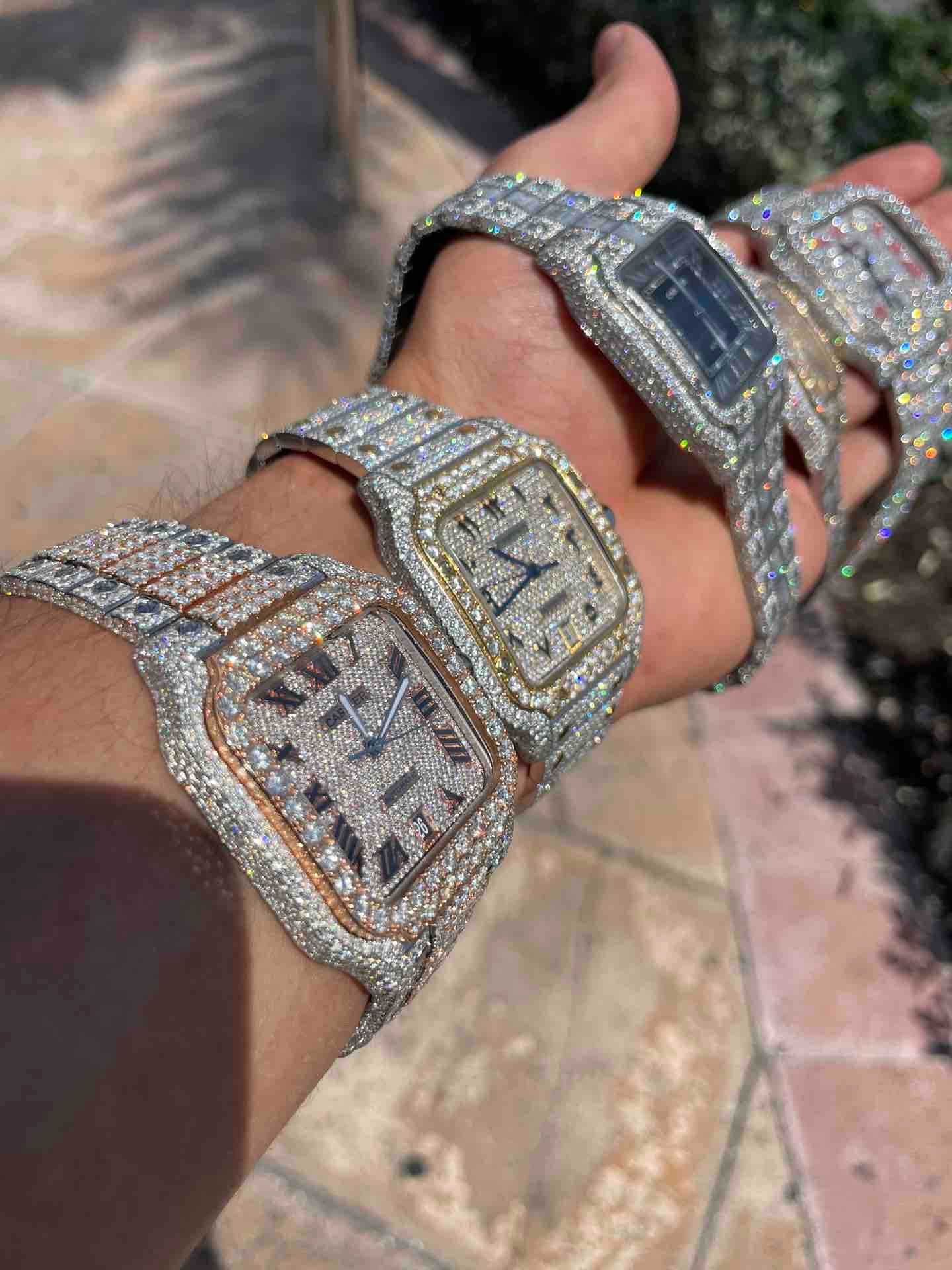 Cartier, a name that resonates with sophistication, luxury, and timeless beauty, has always been a staple in the horological world. Its watches, synonymous with grandeur and precision, have graced the wrists of royalty, celebrities, and connoisseurs alike. But, what happens when this classic elegance of Cartier meets the audacious allure of diamonds? The result is the mesmerizing iced-out Cartier watch – a harmonious blend of tradition and contemporary flair.
What Makes the Iced-Out Cartier So Special?
Imagine a Cartier watch, with its pristine dial, elegant hands, and iconic design. Now, envision that same watch adorned with meticulously arranged diamonds, sparkling with every wrist movement. This is the magic of the iced-out Cartier.
Artistry on Display: Embellishing a Cartier watch with diamonds is not merely about adding bling. It's a meticulous process, where each stone is carefully chosen and set, ensuring that it complements Cartier's classic design while enhancing its allure.

A Statement of Luxury: While a Cartier watch on its own is undoubtedly a luxury item, adding diamonds elevates it to a whole new level. It's not just about showcasing wealth, but about making a bold statement of one's personal style and taste.

Timeless Appeal: The beauty of the iced-out Cartier is that it retains its timeless charm, even with the additional embellishments. It's a testament to Cartier's design philosophy – that true elegance can adapt and evolve without losing its essence.
Why RDP Jewelry Stands Out in the Iced-Out Cartier World
Iced-out Cartier watches are not just about attaching diamonds to a watch. It's an art, and few understand this better than RDP Jewelry. Located in the heart of Miami Beach, this luxury boutique is the premier destination for those seeking the best iced-out Cartier watches.
Unmatched Craftsmanship: Every Cartier watch at RDP Jewelry is treated with reverence. The craftsmen ensure that each diamond is set perfectly, enhancing the watch's beauty without overshadowing its original design.

Authenticity First: RDP Jewelry prides itself on offering genuine Cartier watches, ensuring that customers get the real deal, every single time.

A Personal Touch: Buying a luxury watch is a personal experience. RDP Jewelry's experts guide clients through their vast collection, ensuring that they find a timepiece that resonates with their personality.

Miami Beach Advantage: The glitz and glamour of Miami Beach are perfectly aligned with the ethos of the iced-out Cartier. RDP Jewelry, with its prime location, offers clients an experience that's not just about purchasing a watch, but about immersing oneself in a world of luxury.
Conclusion
In a world where luxury watches abound, the iced-out Cartier stands in a league of its own. It's a celebration of Cartier's heritage, augmented by the boldness of diamonds. And when it comes to acquiring one of these masterpieces, RDP Jewelry in Miami Beach is the destination for discerning watch enthusiasts. With its unparalleled collection, expert guidance, and commitment to authenticity, it's the perfect place to find an iced-out Cartier that's not just a watch, but a piece of art.