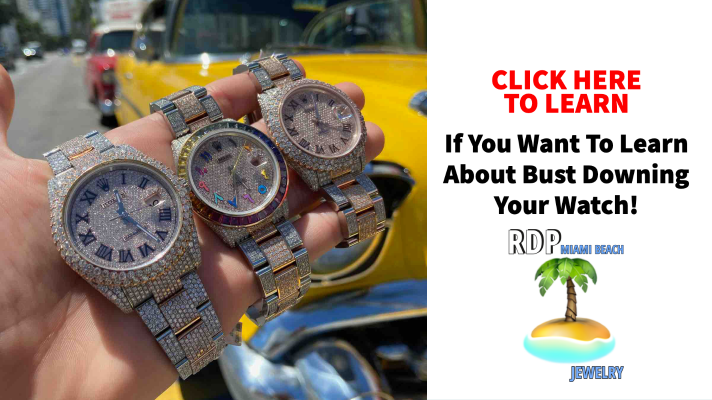 I Want to Bust Down My Watch
I Want to Bust Down My Watch!
If you honestly want to bust down your watch, it is often better to buy from a dealer with a watch already "bust downed" rather than have to pay for the diamonds and labor to have your watch iced out. Unless you have enough budget to pay for it. At bust down watch dealers such as RDP Jewelry you are able to find the bust down watch you are looking for, or you can call and get one to your specific liking if its not on the website. Contact them here.
The labor and cost to bust down a watch can be around $5,000 - $15,000 depending on the type of quality diamonds you are getting. The better diamonds, the higher cost. 
However, with jewelers such as RDP Jewelry you can get whatever watch with the dial, band, color, or size of your liking! So it's basically like you are bust downing your own watch. I
It's important to buy from reputable and trusted jewelers, and we have been in the business since 1960. We look to build lifelong relationships and look forward to getting in contact with you.
Click here to learn How Much Does it Cost To Bust Down a Watch.
Click here to learn what it means to "bust down" a watch.
Click here to learn the Average Cost of "Busting Down" a Watch.