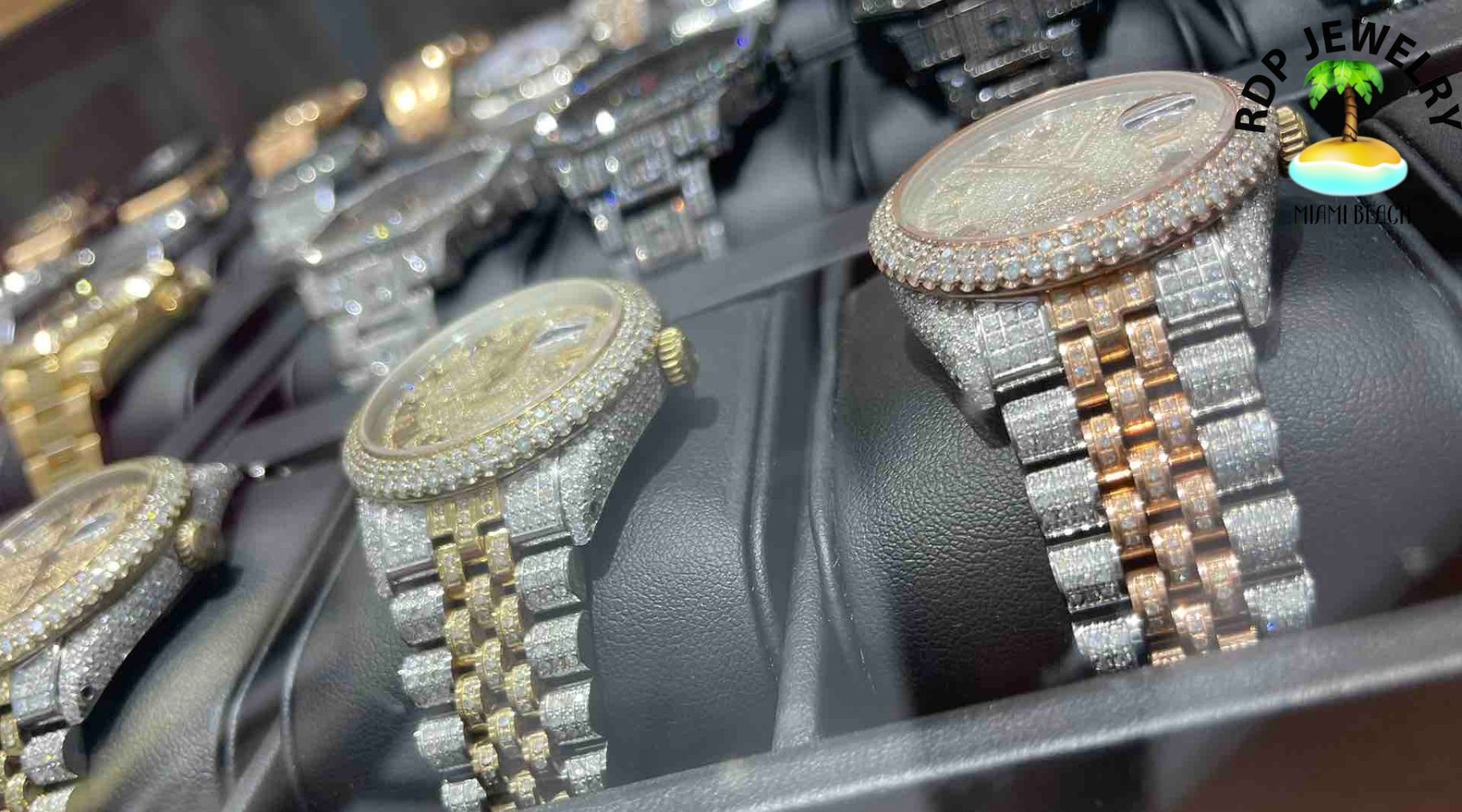 Bust down jubilee (this is a rolex watch)
The Elegance of Bust Down Jubilee Rolex Watches at RDP Miami Beach
Explore the stunning world of Bust Down Rolex Iced Out 36mm in Rose Gold with Roman Dial at Renee De Paris (RDP) Miami Beach, where luxury meets unparalleled craftsmanship.
Premier Collection of Bust Down Watches
At RDP Miami Beach, our Bust Down Watches collection showcases the best in the country, including Rolex, Cartier, and Audemars Piguet, each piece a masterpiece of design and luxury.
Rolex Bust Down: A Symphony of Elegance
Our Rolex Bust Down collection offers a variety of sizes and styles, from the classic Rolex Datejust to the impressive Rolex Avalanche.
Cartier's Iced Out Masterpieces
Discover the finest Iced Out Cartier Watches, each adorned with VS1 VVS1 natural diamonds, embodying luxury and sophistication.
More Than Timepieces: Chains and More
Explore our Bust Down Chains and Gold Chains, featuring various styles from tennis to Miami Cuban link, all crafted with the finest materials.
The Allure of Bust Down AP
Immerse in the luxury of Bust Down AP watches, each adorned with VVS VS diamonds, a true symbol of sophistication.
The Splendor of Iced Out Cuban Link Chains
Our Iced Out Cuban Link Chains are crafted with 10k and 14k gold and natural diamonds, offering unmatched elegance.
We Buy: Your Trusted Jewelry Trade Partner
At RDP Miami Beach, we buy jewelry, offering fair prices for watches, chains, and other precious items.
FAQs About Rolex Jubilee
What is the jubilee on a Rolex watch?
The Jubilee on a Rolex watch refers to a specific type of bracelet design, characterized by its five-piece link construction, offering a distinctive and elegant look.
What is a Rolex Jubilee made of?
Rolex Jubilee bracelets are typically made from high-quality materials such as stainless steel, gold, or a combination of both, known for their durability and luxury.
Is the Rolex Jubilee dial discontinued?
While certain models and variations may be discontinued, the Rolex Jubilee style continues to be a popular choice among Rolex collections.
When did Rolex change the Jubilee band?
Rolex has made several updates to the Jubilee band over the years, with changes in design and materials to enhance comfort and durability.
How many links does a Rolex Jubilee bracelet come with?
A Rolex Jubilee bracelet typically comes with around 20 to 22 links, but this can vary depending on the specific model and wrist size.