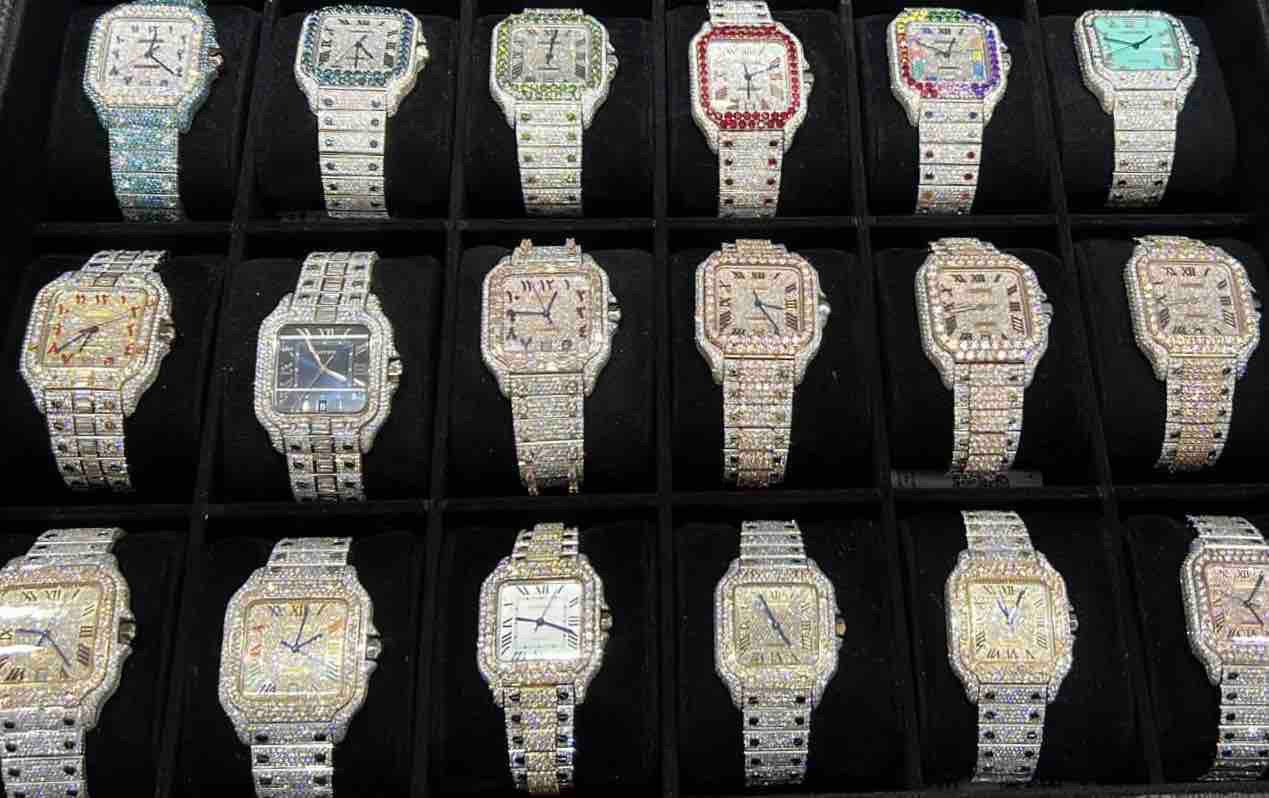 Bust Down Cartier Skeleton Watch
The Bust Down Cartier Skeleton Watch: A Fusion of Craftsmanship and Elegance
Watches are more than just time-telling devices; they're statements of personality, style, and status. And when it comes to making such statements, the Cartier Skeleton Watch, especially when it's "bust down", stands head and shoulders above the rest. It's a timepiece that does more than just tell time; it tells a story.
The Cartier Legacy
To truly appreciate the Bust Down Cartier Skeleton Watch, one must first understand the legacy of Cartier. For over a century, Cartier has been at the pinnacle of luxury watchmaking. Known for its meticulous attention to detail, unmatched craftsmanship, and an unerring sense of style, Cartier has crafted watches for royalty, celebrities, and anyone with a discerning taste for luxury.
Why "Bust Down"?
The term "bust down" might sound aggressive to the uninitiated. But in the world of luxury jewelry, it means a piece that's been adorned with diamonds or precious stones. A "bust down" watch is, therefore, one that's been iced out to perfection. It's a dazzling display of luxury, where every inch of the watch's surface gleams with the shine of carefully set stones. The Cartier Skeleton, with its intricate design and visible mechanics, becomes a canvas for this art, transforming it into a masterpiece of jewelry craftsmanship.
RDP Jewelry: The Bust Down Maestros
So, where does one go to find such a masterpiece? The answer lies in the heart of Miami Beach, at RDP Jewelry. Their selection of iced out Cartier watches is unparalleled. Whether it's the stainless steel variant, the exquisite gold version, or the iconic Cartier Santos, RDP Jewelry offers a piece for every style and preference.
But what truly sets RDP Jewelry apart is their collection of Cartier Skeleton Bust Down watches. These are pieces that showcase the pinnacle of both watchmaking and jewelry design. Every stone is meticulously set, ensuring that the watch isn't just functional but also an absolute stunner.
RDP Jewelry's Miami Beach Location: A Destination Like No Other
Miami Beach is synonymous with luxury, glamour, and style. It's a place where the world's elite come to play and where luxury brands set up their flagships. Located in this hotspot is RDP Jewelry, offering not just watches but an experience. The ambiance, the knowledgeable staff, and of course, the dazzling array of watches make it a destination for watch enthusiasts and those looking to own a piece of luxury.
Conclusion: A Timeless Investment
Watches, especially ones from brands like Cartier, aren't just purchases; they're investments. They're pieces that can be passed down through generations, telling stories of times gone by. The Bust Down Cartier Skeleton Watch, with its blend of horological excellence and jewelry craftsmanship, is more than just a watch; it's a piece of art. And there's no better place to find this masterpiece than at RDP Jewelry, the crown jewel of Miami Beach.