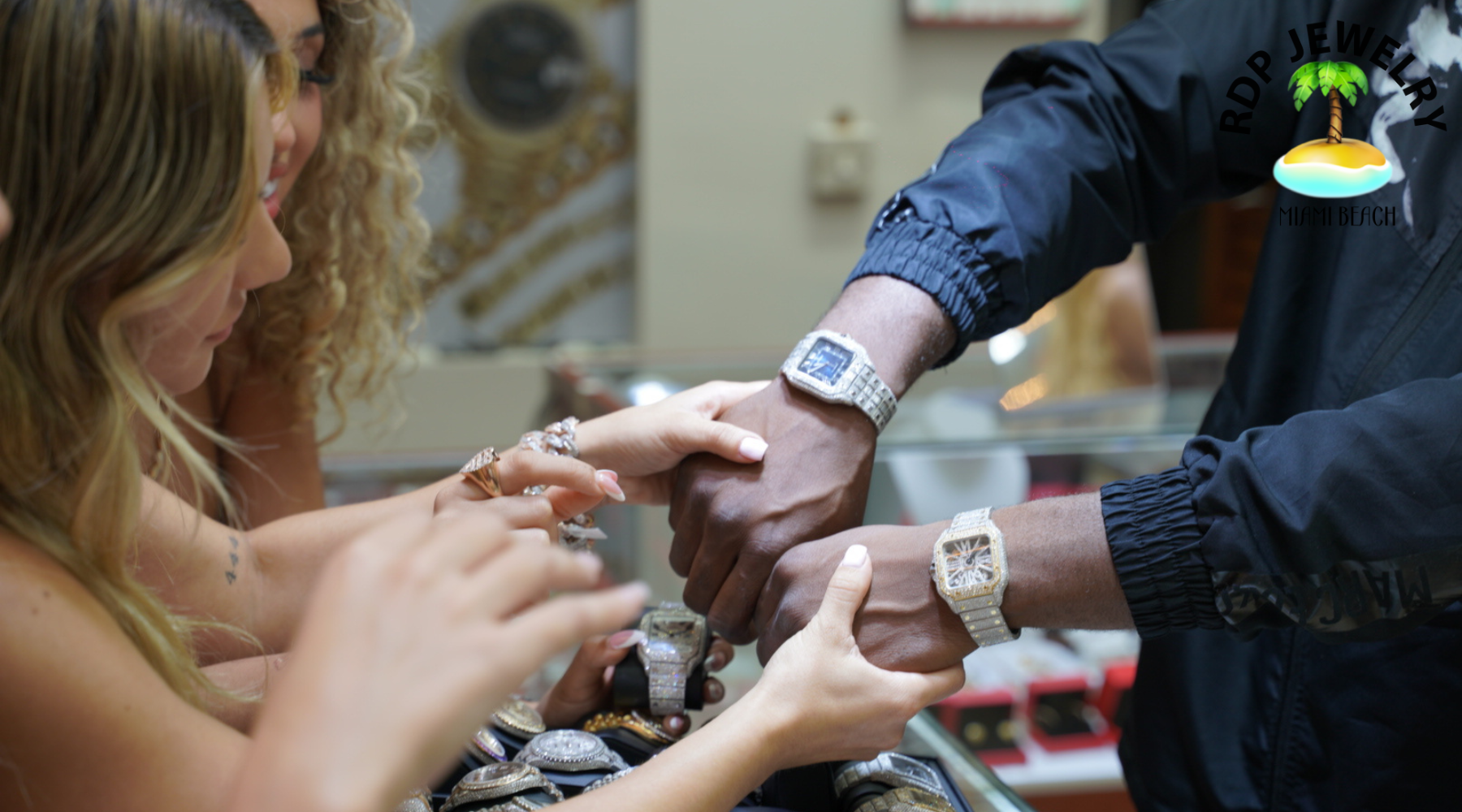 Explore the World of Luxury with Bust Down Cartier Santos at RDP Miami Beach Jewelry
At RDP Miami Beach Jewelry, we offer an exquisite range of luxury watches and jewelry, including the coveted Bust Down Cartier Santos. Our collection of Bust Down Watches is unparalleled, featuring everything from Rolex Bust Downs to Iced Out AP Watches.
A Diverse Range of Bust Down Watches
Our Rolex Bust Down collection includes a variety of styles such as the 36mm and 41mm models, each fully iced out for that luxurious look. For those who prefer Cartier, our selection of Iced Out Cartier Watches is second to none, showcasing the finest craftsmanship with VS1 VVS1 natural diamonds.
Exquisite Chains for Every Taste
At Renee De Paris, we offer more than just watches. Our selection of Bust Down Chains includes stunning options like tennis, Miami Cuban link, and baguette chains. For gold enthusiasts, our Gold Chains come in a variety of styles including Cuban link, figaro, and rope chains.
The Ultimate Audemars Piguet Experience
For those who admire the exceptional, our Bust Down AP watches are a perfect blend of luxury and precision, featuring natural VVS VS diamonds.
The Iconic Iced Out Cuban Link Chain
Our collection of Iced Out Cuban Link Chains is crafted with precision, offering an array of designs in 10k and 14k gold, fully iced with natural diamonds.
We Buy Your Precious Pieces
At RDP Miami Beach, we not only sell but also buy jewelry. Whether it's watches, chains, or gold in any form, we offer competitive prices for your precious items.
Frequently Asked Questions
Who Wears a Cartier Santos?
The Cartier Santos is worn by those who appreciate timeless luxury and elegance. It's a popular choice among celebrities and watch aficionados alike.
Is the Cartier Santos Worth Buying?
Absolutely! The Cartier Santos is not only an iconic timepiece but also a sound investment, known for retaining its value over time.
How to Tell if Cartier Santos is Real?
To authenticate a Cartier Santos, check for the crispness of the engravings, the quality of the finish, and the precision of the movement. Official documentation also helps in verification.
Cartier Santos Bust Down Price?
The price of a Cartier Santos Bust Down varies based on the customization and the quality of diamonds used. It's a luxurious piece, often priced higher due to its bespoke nature.
How Can You Tell a Fake Cartier Santos?
A fake Cartier Santos may have imperfect engravings, inferior quality material, and lack of precision in the movement. Always look for inconsistencies and lack of official documentation.
Do You Have to Wind a Cartier Santos?
Yes, depending on the model. Some Cartier Santos watches are automatic and require movement or manual winding to keep running.
Is Cartier Santos In-House Movement?
Yes, many Cartier Santos models feature in-house movements, showcasing Cartier's commitment to craftsmanship and quality.
Does Cartier Santos Hold Value?
Yes, Cartier Santos watches are known to hold their value well, making them a great investment piece.
What Are the Differences Between a Cartier Santos and a Regular Cartier Watch?
The Cartier Santos stands out with its distinctive square bezel, Roman numerals, and visible screws on the bezel, differing from other Cartier watches that may feature varied designs and functionalities.