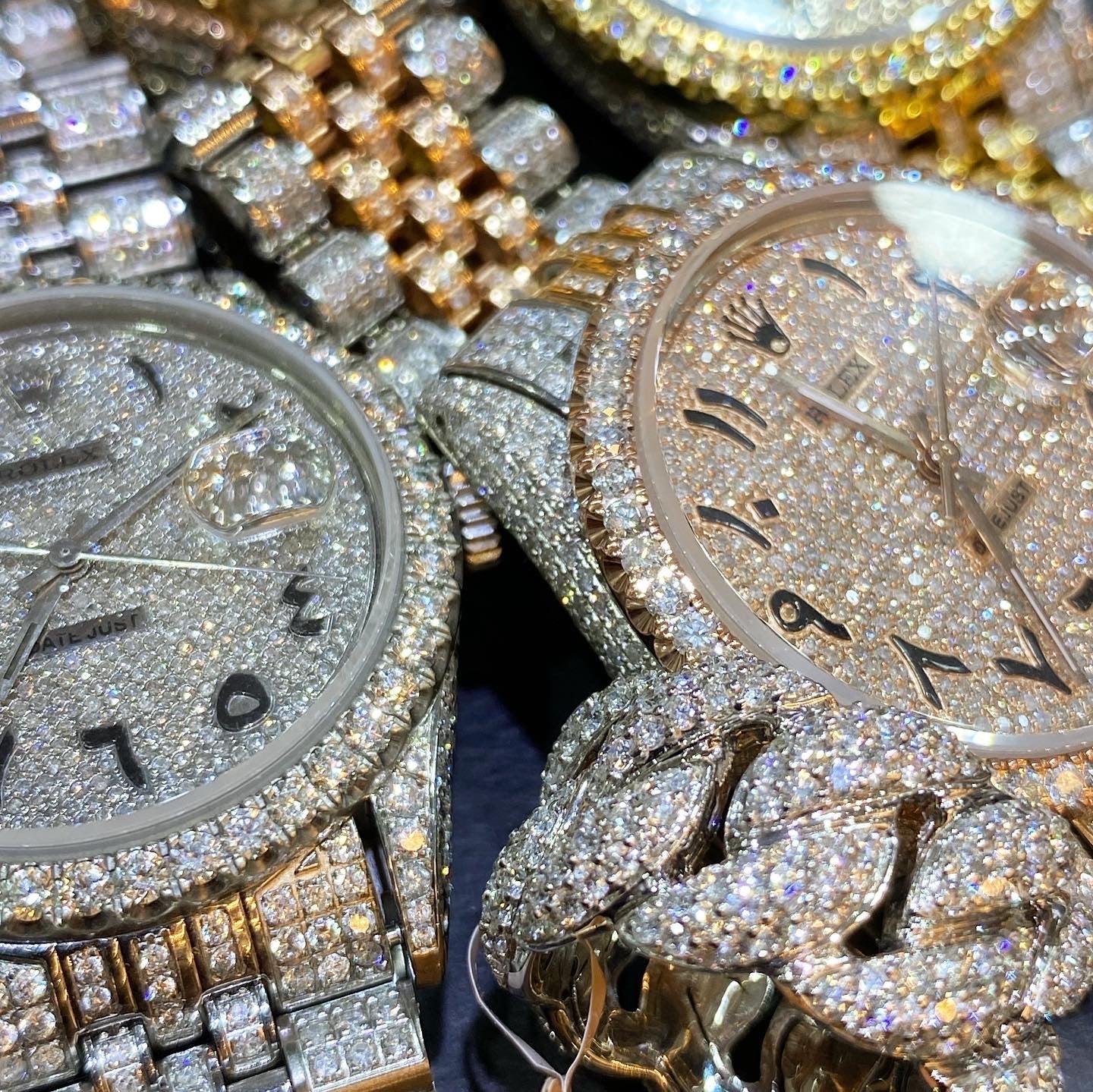 When it comes to timepieces that make a statement, few can match the sheer opulence of a Bussdown Rolex. But what exactly is a Bussdown Rolex? Let's delve into the world of luxury watches and discover the craftsmanship behind these dazzling pieces at RDP Miami Beach Jewelry.
What is a Rolex Bust Down?
A Rolex Bust Down is not just a watch; it's a statement of excellence and luxury. These watches are fully iced out with natural VS1 VVS1 diamonds, embodying the pinnacle of high-end customization. Available at RDP Miami Beach Jewelry, a Rolex Bust Down combines the value of precious stones and the timeless allure of Rolex timepieces.
Discovering the Sizes: From 36mm to 41mm
Choosing the perfect Bussdown Rolex means selecting a size that complements your style. The 36mm Bust Down Rolex offers a classic elegance with diamonds that sparkle on the band and bezel, providing a luxurious finish to this already premium timepiece.
For those preferring a larger dial, the Bust Down Rolex 41mm makes a bolder statement. This timepiece's expansive face allows for even more diamonds, resulting in a watch that truly stands out.
Special Editions: Two-Tone and Stainless Steel Variants
The Rolex Bust Down 36mm Two Tone with an Arabic dial and jubilee band is a testament to the artistry of RDP Miami Beach Jewelry's offerings. Its two-tone design brings an additional layer of sophistication to an already stunning piece.
For purists, the Rolex Bust Down 36mm Stainless Steel variant offers a sleek, modern look with a Datejust Roman dial, merging classic Rolex aesthetics with the modern flair of a bust down.
Connect With RDP Miami Beach Jewelry
To experience these marvels of horology in person or to inquire further, contact RDP Miami Beach Jewelry. Their dedicated team is ready to assist you in choosing the perfect timepiece or even discussing options for selling your own Rolex watch.
More Than Just Timepieces
At RDP Miami Beach Jewelry, the collection extends beyond watches. The Bust Down Watches category includes an array of designs, ensuring that every client finds a watch that resonates with their personal style.
In the heart of Miami Beach, RDP Jewelry isn't just a store; it's a destination for those who appreciate the finer things in life. A place where luxury is personalized, and where every watch tells its own story of elegance and prestige.