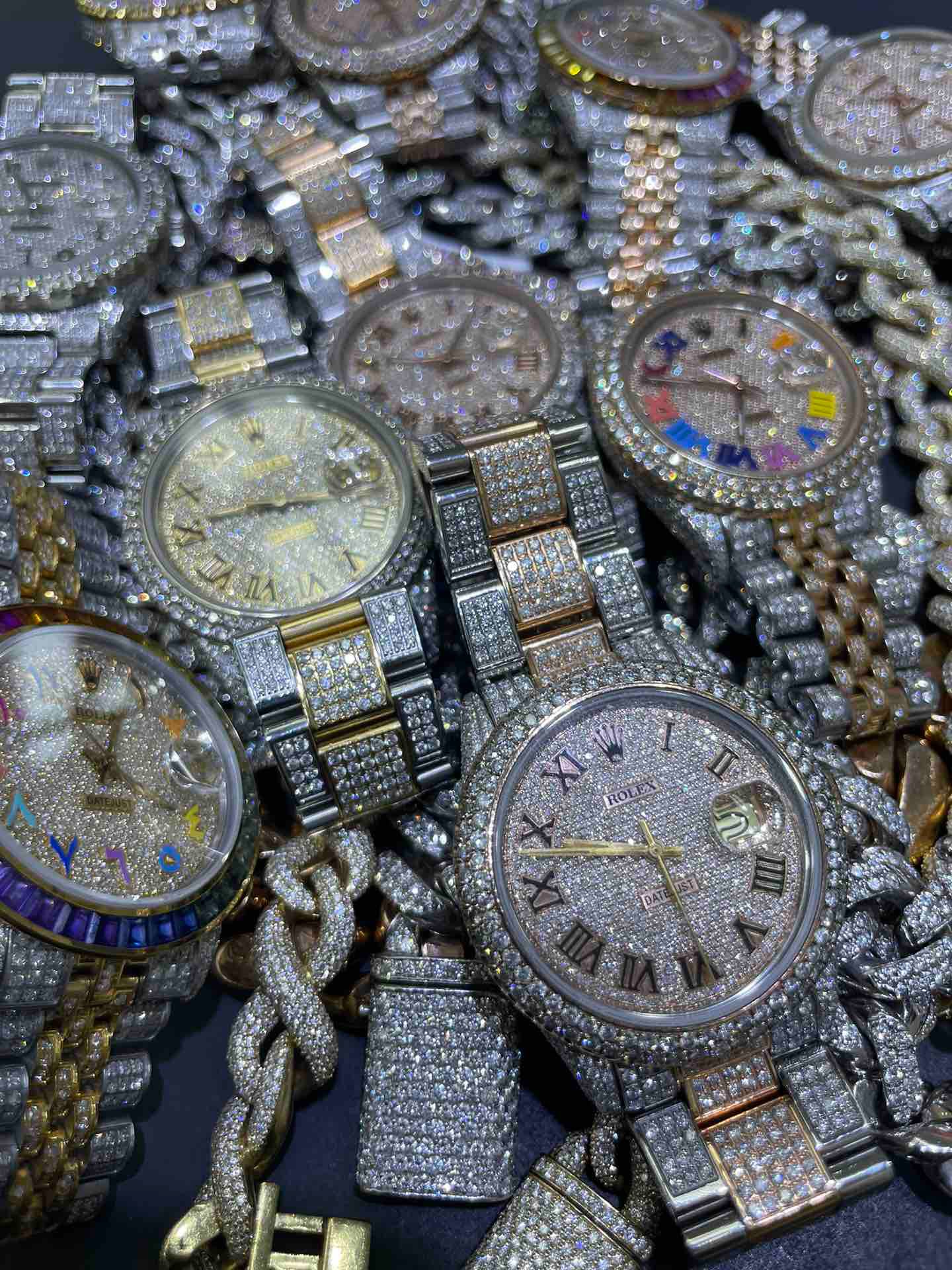 Discover the Ultimate Craftsmanship of Rolex Bust Downs at RDP Jewelry Miami Beach 
At the heart of Miami Beach's luxurious lifestyle, RDP Jewelry stands out as a beacon of opulence, especially when it comes to their coveted collection of Rolex Bust Downs. A Rolex Bust Down is not just a watch; it's a statement piece, fully iced out with natural VS1 VVS1 diamonds, signaling a level of prestige available at RDP Miami Beach Jewelry.
The Allure of the Iced Out Cartier Watch
If the Rolex is the king of the watch world, then Cartier is its queen. RDP Jewelry presents the best Iced Out Cartier watches, a collection that redefines luxury with VS1 VVS1 natural diamonds, each timepiece crafted to perfection. A Cartier iced out by the masters at RDP Jewelry is not just a watch; it is an heirloom.
The Prestige of Bust Down AP
For those with a taste for the exceptional, a Bust Down AP (Audemars Piguet) is the pinnacle of watchmaking artistry. Adorned with the finest VS VVS natural diamonds and boasting all original parts and movement, RDP Jewelry ensures that each iced out Audemar Piguet watch stands as a testament to unmatched craftsmanship.
An Array of Bust Down Watches
Renee De Paris Jewelry Miami Beach doesn't just sell timepieces; they offer a legacy wrapped around your wrist. Their collection of Bust Down Watches ranges from Rolex to AP, each infused with the spirit of Miami. For those looking to sell, they are also a trusted buyer of Rolex watches, offering evaluations and fair prices.
The Opulence of the Bust Down Cuban Link Chain
Beyond watches, RDP Jewelry boasts a selection of the finest iced out Bust Down Cuban Link Chains. Made with 10k or 14k gold and encrusted with VS VVS1 natural diamonds, these chains are crafted to be the highlight of any ensemble, embodying the luxury of Miami Beach.
Connect with RDP Jewelry
For personalized service and an exclusive shopping experience, contact RDP Miami Beach Jewelry. Whether you're browsing for a gift or treating yourself, their expert staff at 6608 Collins Ave Miami Beach will guide you through their exceptional collection.
Spotlight on the 36mm Bust Down Rolex
Among the jewels of RDP Jewelry is the 36mm Bust Down Rolex, a harmonious blend of Rolex's timeless design and the extravagant addition of diamonds on the band and bezel. Each 36mm Rolex is an epitome of luxury, designed for those who carry an air of elegance with them.
In conclusion, the journey of finding the ultimate luxury watch or chain is complete at RDP Jewelry Miami Beach. It is not just about the accessory; it's about the lifestyle that comes with it. When you choose a Rolex Bust Down or an Iced Out Cartier from RDP Jewelry, you're not just buying a piece of jewelry; you're investing in a legacy of beauty and excellence that will stand the test of time.